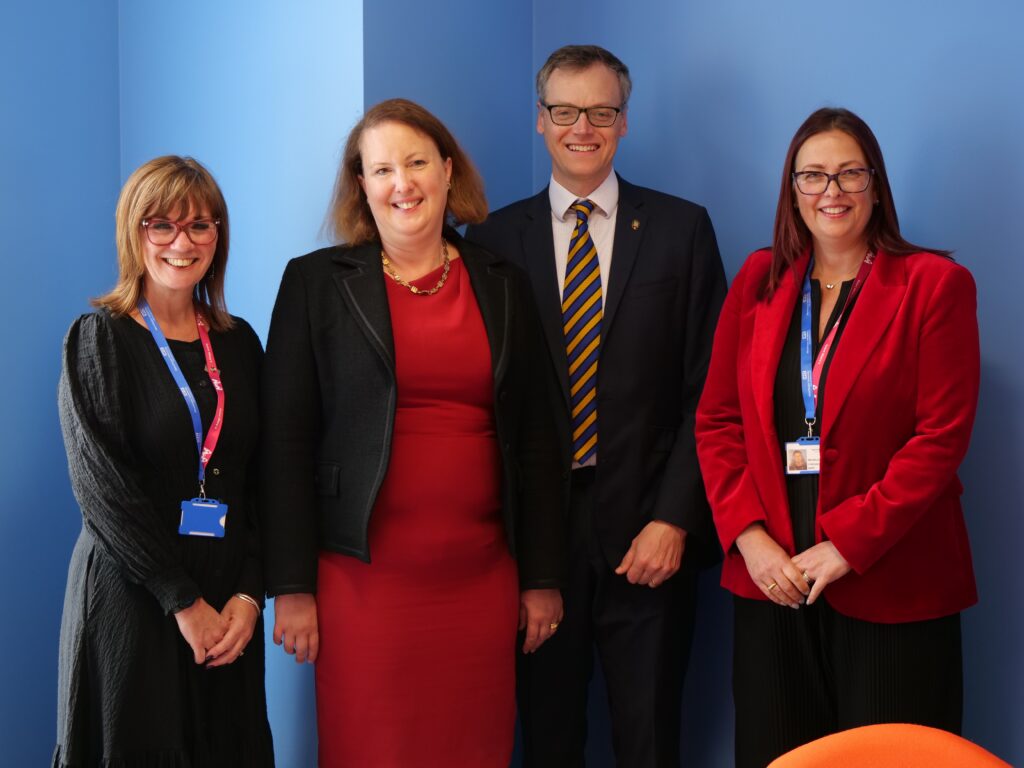 Senior Law Officers, including Attorney General Victoria Prentis KC and Solicitor General Michael Tomlinson KC, gave high praise to Saint Mary's Sexual Assault Referral Centre, when they visited staff on May 31 2023, during a key visit.
The centre, based in The Old St. Mary's Hospital, is considered one of the leading sites in the country, for its work supporting victims of sexual crime. It has consistently pioneered the way for other units, after being the first in the country to open in 1986.
Later this year, the centre will be moving to new premises in Peter Mount, at Manchester University NHS Foundation Trust's Oxford Road Campus and The Law Officers were able to visit the centre – as it takes shape.
Attorney General Victoria Prentis KC said: "We know St. Mary's is one of the country's leading centres for supporting victims of these abhorrent crimes.
"The new facilities are world-class, and we hope they will continue to be a haven for those who enter its doors.
"It is easy to underestimate the bravery needed to report a sexual assault and to persevere through report to court.
"Having this one-stop centre for victims both male and female is a massive benefit for the people of Manchester. It has been fascinating to visit at this important part of the centre's history."
One of the topics discussed at round table talks, was the specialist support provided to Manchester's survivors of rape and serious sexual offences.
The staff at the centre also work closely with colleagues from the Crown Prosecution Service's North West offices, to make sure the support afforded to victims continues throughout their journey through the criminal justice system and CPS staff were on hand to meet the Law Officers too.
Solicitor General Michael Tomlinson KC added: "The court process can clearly add so much anxiety for victim who have already endured such a terrible ordeal.
"The support they receive can be instrumental in helping them stay engaged with the justice process, especially in measures like being able to give evidence to court via live video link from the centre in a place where they feel safe and supported."
Dr. Michelle Carroll, Joint Clinical Director of St. Mary's Sexual Assault Referral Centre (SARC) said: "We welcome the visit of the Attorney General, Solicitor General and our colleagues from the Crown Prosecution Service in the North West, to showcase our work and view our new home – which will provide first class facilities to our service users.
"Saint Mary's Sexual Assault Referral Centre is proud to have pioneered the way for victims of rape and sexual assault, and this visit is a chance to recognise the tireless work of our teams who help put people's lives back together, enabling them to move forward in a positive way and to prevent these horrendous experiences of abuse to define their future."