Top MFT cardiovascular experts and a former marathon runner, teach school children CPR skills at a 'first' event for Manchester.
A former passionate marathon runner, who nearly died from a heart attack whilst training, has been helping to inspire Manchester schoolchildren to learn CPR techniques, at the first event of its kind in the city.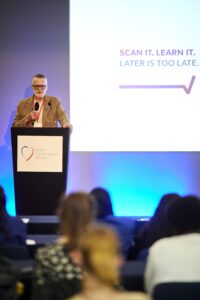 It has been twenty years since George Davies was running with a group of fellow athletes and collapsed, due to ventricular tachycardia (VT), which is an abnormal heart rhythm.
Doctors saved his life that day and would continue to do so, in the years that followed.
"I was fit and thought I was incredibly healthy at the time. If someone had told me that you could die from a heart problem, by doing exercise that you loved – I'd have been very surprised. I never expected a heart attack to happen to me.
"I was incredibly lucky doctors managed to save me then and I'm still incredibly lucky to be alive," says George.
The 75-year-old was fitted with a device called an implantable cardioverter defibrillator (ICD), which acts like a pacemaker but also shocks the heart, if needed.
His resilience meant he battled on with his condition for another 10 years. But eventually doctors told him there was nothing more they could do and unless he had a heart transplant – he would die.
After another touch and go experience, George went to the top of the transplant list at Wythenshawe Hospital.  That was nine years ago and he's still doing well, with his new heart and enjoying life.
George is a coach at Blackburn Harriers and Athletics Club and has a strong message for youngsters:
"I think CPR should be taught in all schools. It's vital to make children aware that any heart complication can happen to them, no matter how fit they are.  Especially if they've been born with it and don't realise.
"They might experience something they need to pay attention to, during sports day, playing football, or in the playground.
"That's why it's so important to give them basic life-saving skills, as it could be the difference between life and death for one of their friends or family."
George spoke at a special Your Heart Hospital event, alongside some of the country's top cardiovascular experts, to fifty Year 10 pupils from Trinity High School, Abraham Moss, Manchester Enterprise Academy, Manchester Communication Academy and Loreto High School.
It was made possible by Manchester University NHS Foundation Trust and was the first time the British Cardiovascular Society had allowed schoolchildren at their Annual Conference, held at Manchester Central Convention Centre on May 6, 2023.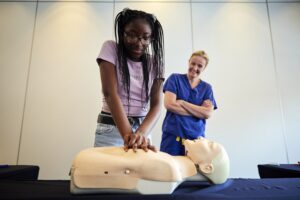 Cara Hendry is a Consultant Cardiologist at Wythenshawe Hospital and Vice President of the British Cardiovascular Society.  She is also George's doctor and helped to educate the pupils on the day.
Cara says: "It's such a fantastic opportunity to share our expertise on how to treat patients in cardiac arrest and teach life-saving skills, with children from the local Manchester area.
"It's a great gift of knowledge and learning that we have to offer, with the specialists that have kindly given up their time. We're hoping there will be many more events like this.
"It's so vital that we think ahead and encourage more of our pupils to go into healthcare careers too, as they are the future of tomorrow."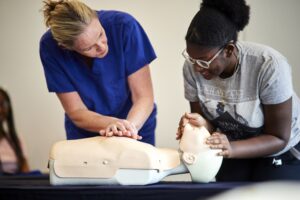 Your Heart Hospital was founded ten years ago, by Dr Miles Dalby, a consultant cardiologist at The Royal Brompton and Harefield Hospitals, who also attended the event.
He explained their three principle objectives for any other schools interested in getting involved: "To demystify what happens to patients in a heart hospital, to teach resuscitation skills and to introduce school children to the wide variety of healthcare careers that are available."
Notes to Editors:
About Manchester University NHS Foundation Trust: Manchester University NHS Foundation Trust is the largest NHS Trust in the country and a leading provider of specialist healthcare services. Its ten hospitals are home to 28,000 staff including world class clinicians and academic staff committed to finding patients the best care and treatments. Its hospitals are Manchester Royal Infirmary, Saint Mary's Managed Clinical Service, Royal Manchester Children's Hospital, Manchester Royal Eye Hospital, University Dental Hospital of Manchester, Trafford General Hospital, Altrincham Hospital, Wythenshawe Hospital, Withington Hospital and North Manchester General Hospital.
More information is available at www.mft.nhs.uk