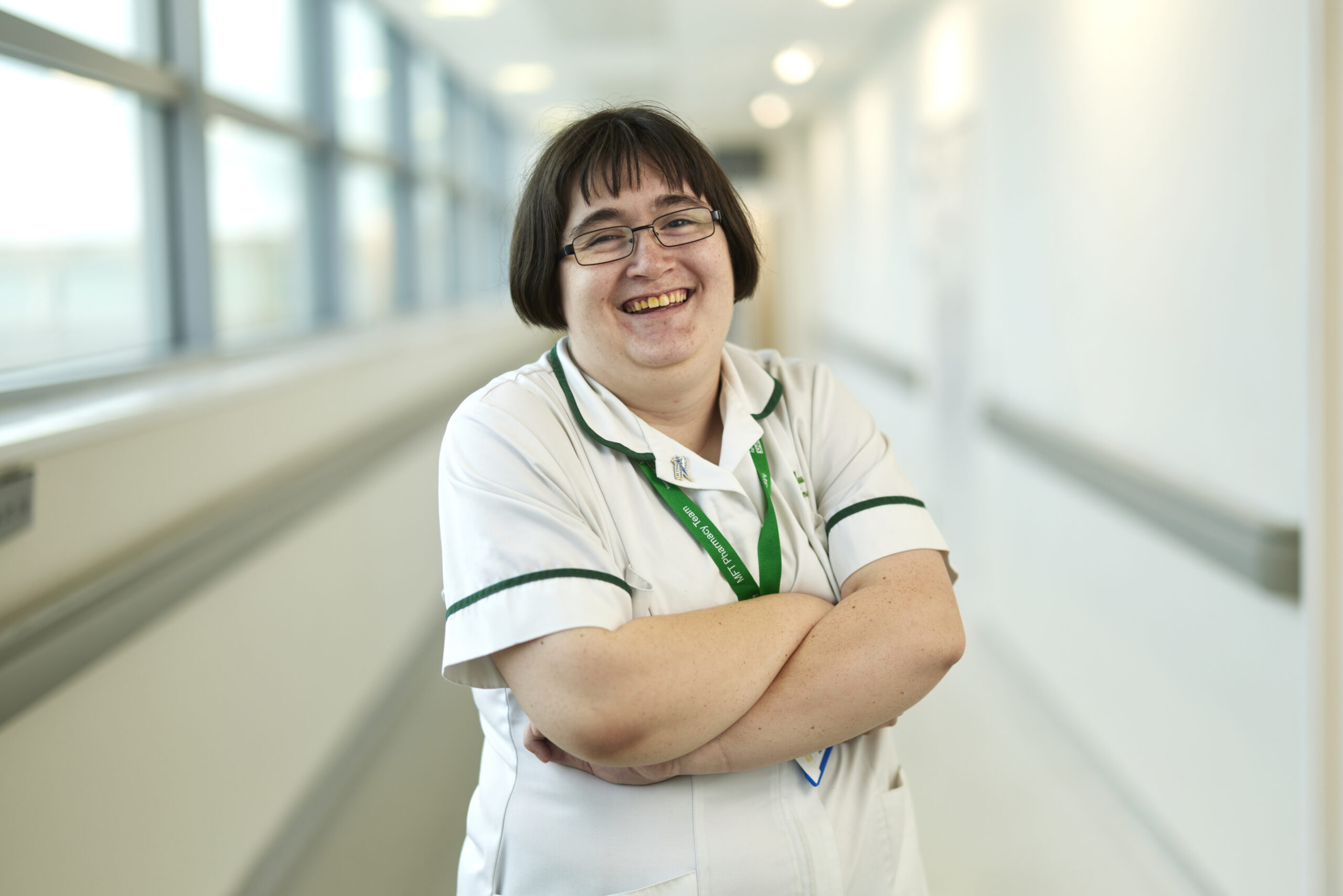 A young woman with learning difficulties is celebrating being given a 'Rising Star' Award, for her contribution to working in a pharmacy at Trafford General Hospital, the same place she was born.
Caitlin Kirwan received a 'highly commended' in the Clinical and Scientific Services Awards, designed to recognise the phenomenal work done by staff across Scientific Services, for Manchester University NHS Foundation Trust.
The 23-year-old is now thriving, after being given an apprenticeship as a Pharmacy Technician, at the hospital considered the birthplace of the NHS.  It follows a successful placement on the Government's Kickstart programme.
Caitlin said: "Joining the team at Trafford General gave me motivation to basically say, hey, I can finally get started in going into work.
"I loved it. It's taught me a lot about myself that I've never thought about and really changed my world.
"If you told a 16-year-old me, that I would go to different wards, helping out, I would never have believed them.
"I was really flabbergasted at getting an award and that someone would go out of their way, saying that I was doing something worth taking about.
"I thought, I am doing something good.  I'm making my mum proud and I'm making myself proud."
Caitlin was part of the Supported Internship Programme at Trafford General Hospital in 2018-19, which was designed to help people with learning difficulties and disabilities to find work.
But then COVID happened, which delayed Caitlin's opportunities.  So after that, she joined the Kickstart programme, which helped young people find work after the pandemic.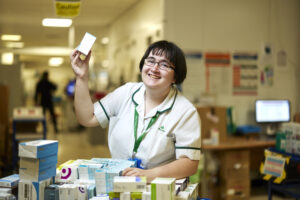 Zara Pain, Director of HR and OD for Clinical and Scientific Services met Caitlin and her very proud mum at the Clinical Scientific Services Award Ceremony.
She says: "It was one of the highlights of our year meeting Caitlin.  The commitment she's shown, throughout her learning journey with MFT, is a true example of a rising star."
The Kickstart programme was seen as vitally important for Greater Manchester, where unemployment rates are higher than the national average and significantly higher for people with disabilities.
Colette Williams, the Inpatient Pharmacy Administration Officer, said she nominated Caitlin for the CSS 'Rising Star' Award just because she is incredible to be around.
"She's such a happy ray of sunshine all the time.  Nothing's ever too much trouble."