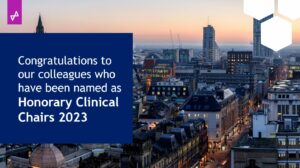 10 Manchester University NHS Foundation Trust (MFT) clinicians are among 15 outstanding individuals announced by Manchester Academic Health Science Centre (MAHSC), part of Health Innovation Manchester, as Honorary Clinical Chairs for 2023.
The MAHSC Honorary Clinical Chairs are awarded on an annual basis by The University of Manchester's Faculty of Biology, Medicine and Health Promotions Committee. They are awarded to individuals from across Greater Manchester who have made a major contribution to their clinical specialty, including excellence in research and education.
As an Academic Health Science Centre, MAHSC is designated by NHS England and the National Institute for Health and Care Research (NIHR) for demonstrating excellence in health research, health education and patient care. In April 2020, MAHSC was designated for a further five years until 2025 in recognition of the exceptional and world-leading health research partnership between Greater Manchester's NHS and academic organisations.
Dr Jonathan Massey, Health Innovation Manchester's Programme Director for Academia, said: "These Honorary Clinical Chairs are awarded by The University of Manchester to recognise the significant contributions that each of these eminent individuals has made towards the goals of our AHSC to excel in health and care research, education, and the patient experience. Congratulations to them all."
The new MAHSC Honorary Clinical Chairs at MFT for 2023 are:
Susmito Biswas, Consultant Paediatric Ophthalmologist, MFT
Michael Callaghan, Clinical Specialist Physiotherapist, MFT
Simon Carley, Consultant in Emergency Medicine, MFT
Matthew Evison, Consultant Chest Physician, MFT
Pauline Ho, Consultant Rheumatologist, MFT
Lala Leelarathna, Consultant Diabetologist, MFT
Raja Padidela, Consultant Paediatric Endocrinologist at MFT and Deputy Medical Director at the NIHR Manchester Clinical Research Facility (CRF) at Royal Manchester Children's Hospital
Benjamin Parker, Consultant Rheumatologist at MFT and NIHR Manchester CRF Co-Director
Ferdinand Serracino-Inglott, Consultant Vascular Surgeon, MFT
Jecko Thachil, Consultant Haematologist, MFT
Professor Rick Body, Group Director for Research and Innovation at MFT, said: "It is fantastic to see that 10 MFT colleagues have been recognised for their exceptional contributions and dedication to research and innovation through the prestigious awards of Honorary MAHSC Clinical Chairs. The award is a testament to the breadth and quality of the ground-breaking work to improve health and care across MFT. Huge congratulations to all who have been honoured, you should be incredibly proud of this achievement."
Find out more about MAHSC: https://healthinnovationmanchester.com/partnerships/manchester-academic-health-science-centre/
Find out more about MAHSC inaugural lectures, where MAHSC Honorary Clinical Chairs are invited to share their professional and personal journeys, clinical and research areas, and plans for the future here: https://healthinnovationmanchester.com/partnerships/manchester-academic-health-science-centre/mahsc-inaugural-lectures/