Research and Innovation (R&I) at MFT continues to improve and save lives through cutting-edge scientific breakthroughs and discoveries, translated into new tests, treatments, innovations, products, and services for our diverse patients and population.
We aim to give as many people as possible the opportunity to influence, design, and take part in clinical studies and evaluations. MFT research participants are regularly the first-in-the-UK, and often the first-in-the-world, to trial new treatments and procedures.
Nearly 19,000 people took part in research studies at MFT from April 2022 to March 2023, spread across 1,377 – including 279 new studies which opened during that period – and placed MFT as the overall fourth highest recruiter in the country. MFT was also the top recruiter in the country to commercial research studies.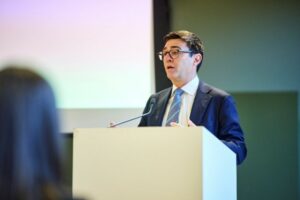 Expanding our research and innovation
Following successful bids both the National Institute for Health and Care Research (NIHR) Manchester Biomedical Research Centre (BRC) and NIHR Manchester Clinical Research Facility (CRF) have received substantial funding awards to continue growing experimental medicine and drive health improvements and lasting change for all from 2022 to 2027.
Manchester BRC, hosted by MFT and The University of Manchester, received a £60 million award to translate scientific discoveries into new treatments, diagnostic tests, and medical technologies to improve the lives of patients in our urban, rural and coastal communities across Greater Manchester, Lancashire, and South Cumbria by increasing its research themes, capacity and expanding its partnership to five NHS trusts across the North West.
The MFT-hosted Manchester CRF was awarded £15.5 million to further grow its experimental medicine provision. Manchester CRF's world-class facilities and staff are now operating at four MFT sites: Manchester Royal Infirmary, North Manchester General Hospital, Royal Manchester Children's Hospital, and Wythenshawe Hospital, along with sites at The Christie Hospital and Salford Royal Hospital
Both were officially launched by The Mayor of Greater Manchester, Andy Burnham, in March 2023.
Bringing research closer to our communities
MFT is working in collaboration with the NIHR Clinical Research Network Greater Manchester on the Genes and Health Study, which is trying to understand why people of Bangladeshi and Pakistani heritage have some of the highest rates of heart disease, diabetes and poor health in the UK. One of the world's largest community-based genetics studies, it will analyse the genes and health of 100,000 people in Greater Manchester, East London and Bradford.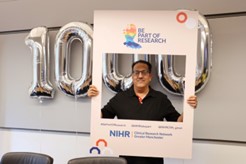 University of Manchester Chancellor Nazir Afzal OBE, whose parents moved to England from Pakistan, was the 1,000th person in Greater Manchester to take part and encouraged others in the region to get involved. Read more about the study here.
The Greater Manchester Research Van has been pivotal in delivering research studies across Greater Manchester, including, the pioneering ID LIVER project which aims to save lives by developing a new clinical system that will enable earlier, more accurate and potentially life-saving diagnoses.
The purpose-built, one-stop mobile facility reached Old Trafford in December 2022 with participants delighted with how accessible and easy it made taking part in research.
"There's no waiting, it's straight in. The fact that it's coming out where people live is a great thing." Anthony Casey – ID Liver research participant 
Read more about our research van here.
Leading the world in cutting-edge research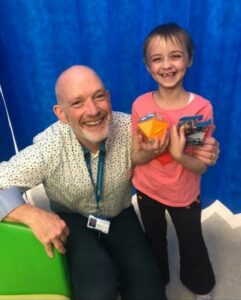 MFT continues to lead the way in world-first treatments and trials, turning our research into reality for our patients across Greater Manchester and beyond.  
Pioneering research at MFT has shown dramatic results for treating children with a high-risk type of blood cancer, who previously had no hope of recovery after all other treatment options had failed. The success of the innovative treatment is down to the help of newborn babies, as the cord blood cells taken from the placenta (afterbirth), along with a series of white blood cell transfusions, provides the most effective treatment ever trialled. Read more here.
An innovative genetic test, developed with MFT researchers, that can prevent newborn babies from going deaf if treated with a common antibiotic, is now being used in routine clinical practice across maternity settings at MFT.
It is estimated that approximately 1,700 babies a year will be tested, which has so far saved the hearing loss of six babies in Greater Manchester. This introduction follows the conditional recommendation of the test by the National Institute for Health and Care Excellence (NICE) earlier this year. Read more here.