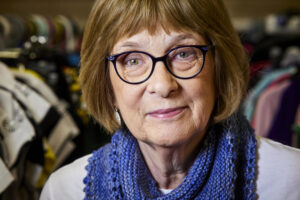 A woman from Bolton who had an artificial eye fitted, has shared her story of finding body positivity again after sight loss – in the hope that it will help others going through the same journey.
Amanda Crossan had to navigate to find a new 'normal' for her life, which included adapting to daily challenges and learning to drive again. She also overcame the practical and psychological impacts of losing one of her eyes, which happened after an incredibly rare complication connected with surgery.
But now Amanda says her experiences have been: "Life changing, in a good way."
Today, the 67-year-old is full of confidence, gives talks to rooms full of school pupils and recently celebrated becoming a volunteer hero at a Manchester charity, helping children affected by poverty.
A few years ago, there was a time when Amanda found it difficult to do the things many people take for granted: "I used to feel very self-conscious, when I still had a socket where my eye used to be, if I was out shopping or on the bus.  Some people would start staring at me, with funny looks.
"Having my artificial eye made just for me, made such a massive difference. It's a huge change to your face, after all.  I was much happier going out and nobody really looked at me in an odd way anymore, which was such a relief.
"My eye is so realistic, I still look at myself sometimes and forget it's not my own. I now feel a sense of gratitude to Manchester Royal Eye Hospital, who made the eye for me – which helped me get my confidence back," she says.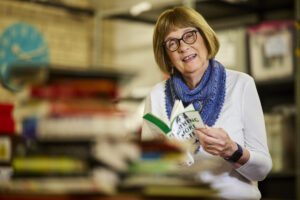 Amanda says she'd now like to put people who have a prosthesis, in touch with people who are considering getting one.
"I've always said that we should have a Facebook group called the 'One Eyed Wonders'. I was thinking along the lines of very practical advice, just to reassure fellow patients that things will be okay."
Losing her eye, meant losing her peripheral vision down one side. So rather than being able to see around 180 degrees when looking straight ahead, it's more like 130 degrees.
"Your life doesn't change too dramatically, but I must be careful about infection.  I'm also far more protective of the sight in my other eye."
"At the end of the day, when you get used to it – it's no massive deal. I'm not the sort of person to sit around and dwell on things.  I just get on with it."
Eventually Amanda, who is a grandmother, was able to retake her driving test and got a car again.
"I didn't feel I was going to be a different sort of person with the artificial eye.  It helps you get back to where you were, albeit with some positive adjustments."
When Amanda goes to get her vision checked now, even some of the nurses who don't know her miss the fact that she has a false eye, on initial meetings, unless she points it out to them.
"There's still quite a lot of movement in the socket behind the artificial eye. It's not fixed and glaring and that helps with the aesthetic look of my eyes."
That is the highest compliment to the ocularist team, at Manchester Royal Eye Hospital, who made the specialist prosthesis for Amanda.
They have an office shelf adorned with teddies and thank you cards from their satisfied patients.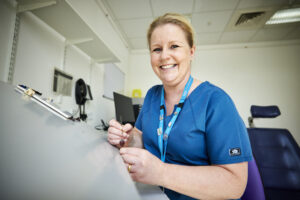 Andrea Morris has worked there for 29 years and made Amanda's eye: "We see a patient from the beginning of their journey, maybe even before surgery, then every twelve months or so, for the rest of their life.
"We get a really personal relationship with the patient. They describe how much difference we've made to them in general after sight loss.
"They say thank you for giving me the confidence to do things like go to Tesco. Thank you for putting me back together again."
"We also see children who might be struggling with going to school because of what people will say."
It takes three separate appointments of an hour each, with a couple of weeks in between, to fashion an eye, made of acrylic. The eye colour is painstakingly matched by the ocularist, using oil paints, as the patient sits in front of them in the chair.
Andrea says: "We're very lucky that we work with such a skilled team, who are all very patient focused. I think it's also about the great working relationships we have with our colleagues and surgeons too.
Meanwhile, Amanda's journey continues, and she recently celebrated being given an award for volunteering work, for helping to run the Books Forever project at Wood Street Mission in Manchester.