For a nine-year old boy and his family, being part of Duchenne Muscular Dystrophy (DMD) clinical research has been 'amazing,' for many reasons.
Harry Bowyer from Westhoughton in Bolton was diagnosed with DMD when he was six years old. He is currently taking part in a clinical trial at the National Institute for Health and Care Research (NIHR) Manchester Clinical Research Facility at Royal Manchester Children's Hospital (RMCH). Building an incredible relationship with the research team, Harry's parents have witnessed him flourish as his confidence has grown and he has embraced activities they had previously not thought possible.
DMD is a rare, genetic, muscle wasting condition that usually affects boys in early childhood. Most will use a wheelchair by the time they are 12 years old and will face life-threatening health problems by their early adult life as the muscles of the heart and breathing muscles weaken.
The study is testing the safety and effectiveness of a drug, Viltolarsen, that may help to improve the length and quality of life for someone with DMD. While Harry must travel to the hospital every week for this treatment, his mum Sam Ballegher, is confident this has been a 'great decision'.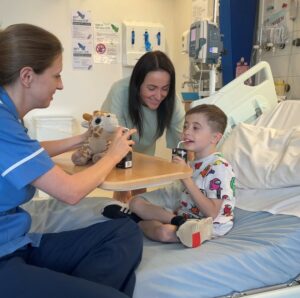 Harry's story
Sam, said: "Although we have had to make some adjustments so that Harry can attend the weekly appointments, he actually loves coming to the hospital.
"He has a fantastic relationship with all the team, who he looks forward to seeing. They have been amazing, and he has an almost brotherly-sisterly bond with Georgi, one of the nurses on the study.
"Harry's appointments usually take a couple of hours, so we appreciate how they have always gone the extra mile, for example, setting up regular drawing sessions or just spending time with him, to ensure he always has the best experience."
Georgi Buxton, Senior Paediatric Clinical Research Nurse, RMCH, part of Manchester University NHS Foundation Trust (MFT), said: "It has been wonderful getting to know Harry and his family. Over time, I have seen his confidence develop. He completely embraces the study process and is always so positive."
Sam said: "When my partner Daniel and I first learnt Harry had DMD we were devastated, but we knew we couldn't just wallow in self-pity. We have three children, Harry and his sisters, Lilly and Evie, who rely on us, so we had to move forward, for our family.
"Before Harry's diagnosis we didn't know anything about DMD and we were shocked to discover how many children have this condition. When we were invited to join this study, we felt if it could in some way help to find a cure one day, not just for him, but others in the same situation, we had to be a part of this research, to give them this chance."
Harry, the only participant on the study at RMCH, due to the rarity of the condition, joined the RACER 53 study in November 2021 which ended in November 2022. The researchers hope to learn if Viltolarsen can improve the function of a protein called dystrophin (needed to build and repair muscle), which does not work properly in children with DMD.
Harry's parents and the research team do not know at this stage if he was receiving the study drug or a placebo in the initial study. However, in a study extension Harry has been receiving Viltolarsen, weekly for over 42 weeks, which the family believe is having a positive effect.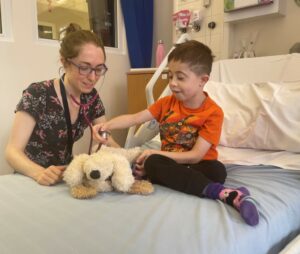 Sam said: "Although we don't know if the drug is having an effect, at school his academic work has improved. His writing has become much neater and easier to read. He's now on the same maths level as the rest of his class – which has been a huge jump, and he takes part in all PE activities."
Harry recently went on an overnight school trip, something Sam believes he could not have done previously.
Sam continued: "We've noticed other things such as, he no longer comes home from school every day exhausted, which means we can do more family things together and he can play with his sisters instead of wanting to lie down as soon as he's home.
"I ask Harry every day how his legs are, and he tells me they don't hurt him anymore. If he's having a better day every day, that's brilliant."
Duchenne Muscular Dystrophy (DMD)
A child with DMD can experience difficulties running, jumping and climbing stairs, struggling to get up from the floor, trouble walking as fast or as far as other children, a tendency to fall more than other children and learning and behavioural difficulties.
Most people with DMD will reach adulthood, however, they are more likely to die from heart or respiratory failure before or during their 30's.
In the UK, about 100 boys are born with DMD each year, and there are approximately 2,500 people living with the condition in the UK at any one time.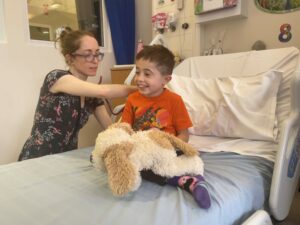 Working together to improve lives
With no current cure for DMD, standard treatments focus on optimising strength and function through medications, physical therapy, and assistive and adaptive devices.
Dr Imelda Hughes Paediatric Neurology Consultant, RMCH, who is leading the study at MFT, said: "We hope this study will help to develop new ways of treating DMD, to help with the challenges of this condition. This is important for the future of our research into this area.
"While we do not yet know the results of this specific trial, we are extremely grateful to participants, like Harry and their families who take part in research at MFT. We value and appreciate their time and commitment to this research, which may benefit others in the future and would be impossible without their involvement."
Georgi said: "This study relies on the collaboration of our participants, their families, the multi-disciplinary team and our wider research partners. We know families like Harry's make a huge commitment to be a part of this study and of course, we could not do any of this without them. We appreciate and care for these children and their families and aim to improve their lives, living with this condition."
Sam concluded: "Getting Harry's diagnosis and learning to deal with it was lot to go through, but it didn't break us. Now we just take each day as it comes, we look at how well he's doing and to us he's doing brilliantly. We just look at that as a positive and go from there."
The study will involve around 53 clinical sites (four in the UK), in approximately 19 countries, predominantly in Europe, Asia, North America, Oceania, and South America.