A 79-year-old woman from Stockport is the first global participant to a research study that could help some of the millions of people worldwide living with glaucoma – a leading cause of irreversible blindness.
According to the Royal College of Ophthalmologists more than 700,000 people in the UK have glaucoma, which is caused by high pressure inside the eye.
Barbara Johnson, a retired classroom assistant, and the first person in the world enrolled in the study, is participating at Manchester Royal Eye Hospital (MREH), part of Manchester University NHS Foundation Trust (MFT), which is investigating the best treatment for the common eye condition.
Barbara's story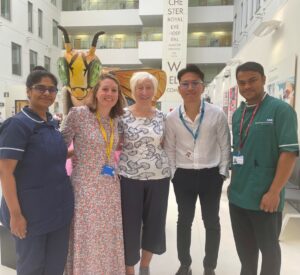 Barbara was diagnosed with primary open angle glaucoma nine years ago. The condition is caused by the drainage channels in the eye becoming gradually clogged over time and creating build-up of fluid inside the eye. If untreated or insufficiently treated, this increase in eye pressure can lead to permanent vision loss.
Most patients will successfully treat their glaucoma with daily eye drops. When the eye drops Barbara had used for many years began to 'burn' her eyes she was given an alternative. However, at a regular eye check-up, she discovered the pressure in her eye was still high.
Barbara said: "My sight is very important to me which is why I was pleased to be offered alternative treatment and to be part of this study for my glaucoma. I enjoy walking, and gardening and I have 10 grandchildren, which keeps me busy.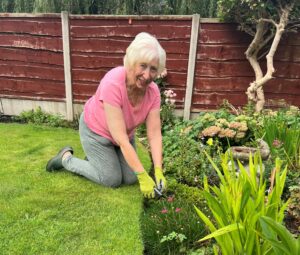 "I recently became a great grandma for the first time, and of course I was really excited that I was able to see my new great grandson. It's really important to me that I keep on top of my treatment for glaucoma as we can't take our vision for granted. I want to be able to watch my grandchildren and great grandson grow up. Thanks to the team at Manchester Royal Eye Hospital, I know my eye health and treatment for glaucoma is in good hands."
The "Multicenter Glaucoma Study Investigating Standalone Canaloplasty (MAGIC)" study is evaluating a surgical treatment called canaloplasty.
Canaloplasty is a clinically proven surgical treatment for glaucoma, which aims to expand the eye's natural drainage channels to improve the flow of fluid from inside the eye and lower the eye pressure.
The study will compare the iTrackTM Advance canaloplasty  device against another commercially available canaloplasty device and investigate any differences in their ability to lower eye pressure and reduce medication used to treat glaucoma.
Barbara, who is the first of 12 people the team at MFT hopes to recruit to the study, was randomly assigned to receive one of the devices in her right eye. She does not know which device she received, but her eye pressure will be assessed over 12 months.
Barbara said: "If I can help others by being part of this research then I'm very happy to do so and if the device works, maybe, in the future, I will no longer need eye drops to treat my glaucoma, which is a great alternative treatment for those who struggle with the side effects of eyedrops, as I have."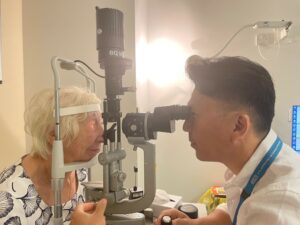 Mr Leon Au, Consultant Ophthalmic Surgeon at MREH and Study Lead at MFT, said: "We are extremely grateful to participants like Barbara, for being part of research.
"We are moving away from prescribing multiple drops in glaucoma treatment, as in some cases they can have unpleasant side effects or are just unsuitable in people with certain underlying conditions.
"For Barbara and others, with something as simple and safe like canaloplasty they may be able to reduce or stop eye drops; have better eye pressure, requiring fewer follow ups and reduce the likelihood of sight loss.
"We are hopeful this research will help to measure just exactly how effective this surgical treatment is so we can apply it appropriately in the treatment pathway, possibly early on in the condition, to improve the healthcare of glaucoma patients in the future."
This research study which is taking place at MFT as well as other sites across the UK and Europe is being sponsored globally by Nova Eye Medical GmbH.