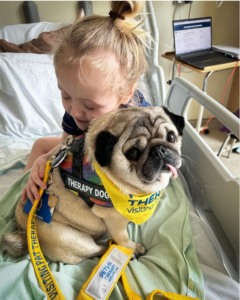 Meet Alfie the pug, the Instagram-famous dog whose day job is to spread joy across Royal Manchester Children's Hospital.
And Alfie, a volunteer at the nationwide charity Pets as Therapy (PAT) isn't just a hit with the hospital's young patients – thanks to photos of him wearing his amazing costumes, he's reached nearly 120,000 followers on Instagram, putting him in the top 5% of influencers worldwide!
PAT dogs like Alfie are trained specifically to provide comfort and friendly support to children and adults in stressful situations.
One of Alfie's 'patients' is six-year-old Huné Gascoigne. Huné was sadly diagnosed with Type 1 Spinal Muscular Dystrophy and regularly visits the hospital for treatment.
Zeedee, Huné's mother, said that their family had not heard of PAT dogs prior to meeting Alfie – but that he made an incredible impact on that first meeting.
Zeedee said: "We have two dogs – a Chihuahua and a French Bulldog, and Huné is a real animal lover. I realised as she cuddled Alfie that it was the first time I'd seen her smile in days.
"In that instant, he brought more to her than I or the medical staff could ever have done. He brought a little bit of home."
Alfie's owner, Suzy Emsden, a paediatric intensive care transport consultant, said: "The great thing about Alfie is that he doesn't ask questions. He doesn't expect anything from you.
"We've got children who are non-verbal and children who don't speak English as a first language, but everyone can understand the love of a dog".
Thanks to his dazzling good looks – and some amazing costumes – Alfie has managed to attract nearly 120,000 followers on Instagram, but despite his large following, he hasn't let the fame get to his head.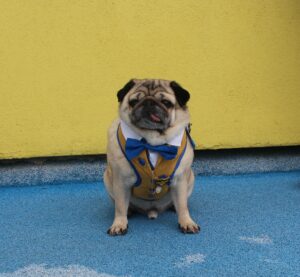 "That's what's so amazing about him. He's just Alfie," Suzy said, "If he was a celeb, he wouldn't be throwing his weight around or only demanding blue M&M's and so on. He's just so happy to be here."
His followers are treated to an insight in his extensive wardrobe that grows every year.  He has a superhero section, bunny and teddy bear costumes, Winnie the Pooh outfits and nearly a dozen pairs of pyjamas.
"The costumes serve a bit of a double purpose," Suzy said. "If it gets warm in the hospital, he can wear a cooling coat underneath. We are also very careful with infection prevention control on the wards and have a special area where he can have a wipe and change his outfit so he's super clean throughout the day."
At home, Alfie likes to chill out on his castle themed bunk bed with Suzy's other pets. She has three dogs, five cats and a bearded dragon. At the moment, Alfie is the only PAT dog although other pets work as blood donors.
"You need to be nice and calm to be a PAT dog," Suzy said. "Once Alfie has his uniform on, he knows it's working time."
And if you want to follow Alfie as he cheers up the hospital's young patients, you can find him at @alfiethepug_beat