The Reserve Forces play a hugely important role within our Trust by providing clinical and clerical support to our Hospitals
Reservists are citizen-soldiers who combine a military role or career with a civilian career. They provide national security from terrorist threats, deliver peacekeeping and aid humanitarian efforts both within the Country and Globally. As a Reservist you can be given opportunities to learn trade skills, gain qualifications, leadership experience and you can take advantage of opportunities such as, adventure training.
As a Trust, we are proud to offer our Reservists up to 10 days paid special leave to help assist them to partake in their yearly Annual Training Camp. You can find out more within our Special Leave policy and the Guidance for Reservists.
Some of the Benefits of joining the Reserves:
Paid for your time and tax-free bonus payment on top of your pay.
Included in the Army's pension scheme
Earn one day paid holiday for every 10 days spent training
Earn military and civilian qualifications
Chances to promote as you gain more experience
Opportunities to travel
Take part in sport and adventurous training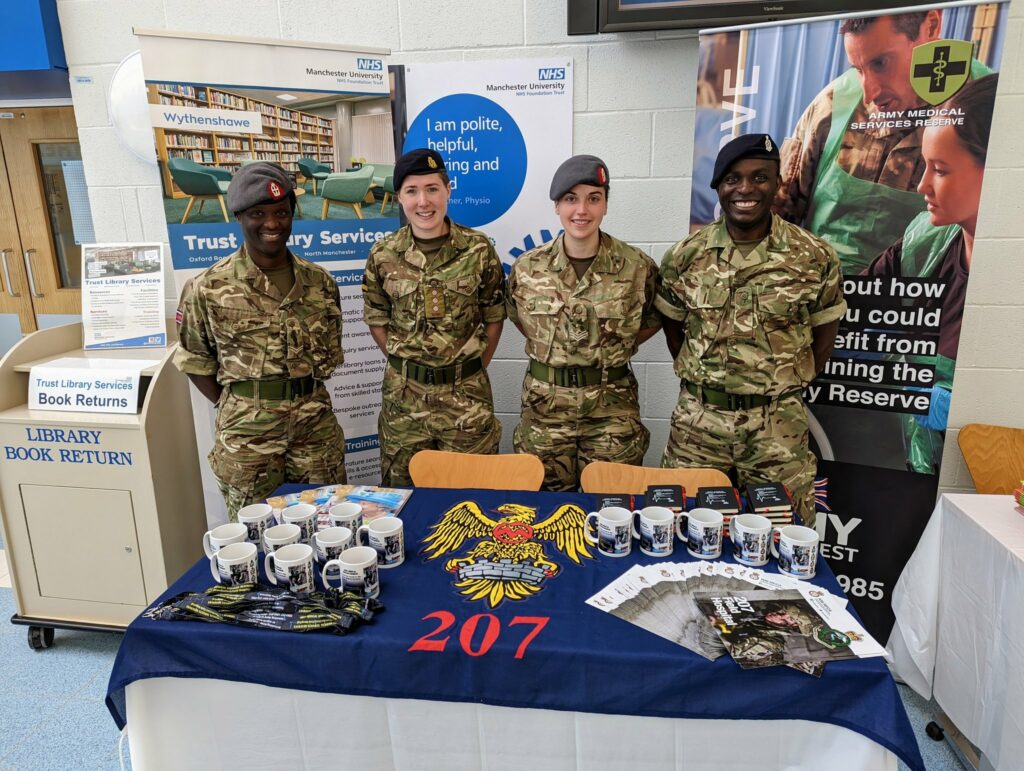 The 207 (Manchester) Field Hospital
We are proud of our links with 207 Field Hospital. We actively support our current Reservists who serve within our hospitals and continue to support members within the Trust to find a joint career within the Armed Forces.
207 (Manchester) Field Hospital forms part of the Army Medical Services (AMS) which provides medical support to UK Forces on operations overseas. It has centres based in Manchester, Stockport, Bury and Chorley. The Regiment is made up of healthcare professionals including doctors, nurses and medical staff.
The Regiment often provide away days and training weeks to offer individuals an insight into what a life within the military is like. These planned events can involve adventure training, leadership tasks, orienteering and much more. There are many benefits for both the individual and the employer when an individual decides to join the military such as leadership skills, qualifications, and hands-on experience.
You are also eligible to join if you are a student nurse, studying medicine or an allied health profession, which currently attract generous financial incentives for those meet the criteria.
If you are interested in a career within 207 Field Hospital and would like an informal discussion, email the recruitment team or call 0161 232 4985.