Annual Members' Meeting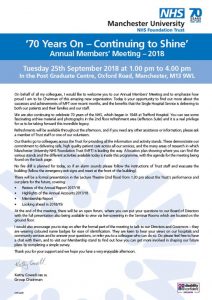 Held on Tuesday 25th September 2018, this meeting was an opportunity to:
listen to how our Trust has performed in 2017/18, find out more about our plans for the future, in addition to receiving information on our Membership and Governor initiatives
hear how we are responding to feedback from patients, staff and members
find out how the new Single Hospital Service is improving patient care
share your views and suggestions with our Board of Directors and Governors.
Click on the image to see the full programme
This free event was held in the Post Graduate Centre, Oxford Road, Manchester, M13 9WL (near Manchester Royal Infirmary) and was open to members (public and staff) and the general public.
The formal presentation started at 1.30pm from our Directors about our 2017/18 Annual Report & Accounts plus our future plans, with newly elected and nominated Governors being formally announced at the meeting.
The event theme for our 2018 Meeting was '70 Years On – Continuing to Shine' with Staff from our hospitals also running information stands showcasing our achievements in patient care, treatment and research and the progress we have made since the Trust was established on 1st October 2017.
Click the image to download a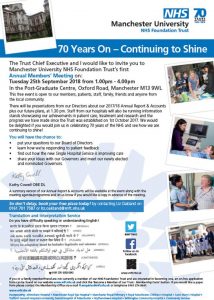 flyer with more details about the Meeting.
For a copy of our Annual Report and Accounts 2017/18, please go to our Publications page.