The MFT Excellence Awards celebrate the very best of our incredible and diverse workforce and the amazing contribution they make every day across our organisation.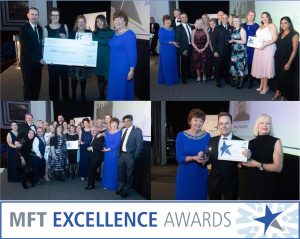 The annual Manchester University NHS Foundation Trust (MFT) Excellence Awards are due to take place on Friday 6th March, 2020 at The Principal Manchester.
The awards are our opportunity to recognise our dedicated teams and individuals who truly display our Values of Everyone Matters, Working Together, Dignity and Care and being Open and Honest. 
This year we had a phenomenal amount of entries, with 622 nominations submitted across 12 categories. Congratulations to everyone who has been nominated for an award.
The full list of finalists can be found below and the winner of each category will be announced on the night of the Awards Ceremony:
The Steve Mycio Apprentice of the Year Award
Stacey Hughes, Trainee Nursing Assistant, Royal Manchester Children's Hospital MCS
Elizabeth Stephen, Trainee Nursing Assistant, Manchester Royal Infirmary
Volunteer of the Year Award
Charlie Barnes, Volunteer Chaplain, Manchester Royal Infirmary
Stephen Young, Volunteer Guide, Clinical and Scientific Services
Unsung Hero Awards
Tony Cabia, Car Park Assistant, Corporate and Support Services
Vera Johnson, Health Care Support Worker, Saint Mary's Hospital MCS
Sheila Self, Service Assistant, Manchester Local Care Organisation
Susan Wright, Paediatric Urology Clinical Nurse Specialist, Royal Manchester Children's Hospital MCS
Equality, Diversity and Inclusion Champion Award        
Irena Tucker, Estates and Facilities Officer, Corporate and Support Services
Clare Wall, Senior Dental Nurse, University Dental Hospital of Manchester MCS
Rising Star Award
George Burghel, Principal Clinical Scientist, Saint Mary's Hospital MCS
Sarah Ramsey, Trainee Advanced Clinical Practitioner, Trafford General Hospital
Achievement in Developing and Learning Award
Olivia Evans, Trainee Healthcare Assistant, Wythenshawe Hospital
Sheba John, Acting Practice Based Educator, Clinical and Scientific Services
Inspirational Leader Award
Joanne Finnigan, Clinical Services Manager Neurophysiology, Clinical and Scientific Services
Natalia Mather, Ward Manager, Royal Manchester Children's Hospital MCS
Brilliant Ideas Award
Cath Applewhite, Critical Care Patient Experience Lead, Clinical and Scientific Services
Pharmacy Informatics and Clinical Pharmacy Team, Clinical and Scientific Services
Patient Choice Award
Steve Bellfield, Healthcare Support Worker, Royal Manchester Children's Hospital MCS
Gerry Byford, Lead Specialist Nurse, Burns and Plastic Surgery, Wythenshawe Hospital
Collaboration Award
Cystic Fibrosis Transition Team, Wythenshawe Hospital
Paediatric Tracheostomy Multi-Disciplinary Team, Royal Manchester Children's Hospital MCS
Non-Clinical Team of the Year Award
International Recruitment Team, Corporate and Support Services
Manchester International Fellowship Programme Team, Corporate and Support Services
Clinical Team of the Year Award
Macular Treatment Centre Team, Manchester Royal Eye Hospital
Outpatient Parenteral Antimicrobial Therapy (OPAT) Team, Wythenshawe Hospital
The Manchester Macmillan Supportive Palliative Services, Manchester Local Care Organisation
Group Chief Executive's Award (announced on the evening)