Volunteer Appeal and Race Day Information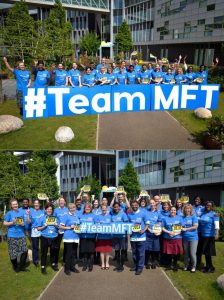 A huge thank you to everyone who has signed up to be part of #TeamMFT 2019.
The response has been incredible. Over 650 staff have now registered to take part in the 10k a week on Sunday, May 19th, meaning the blue wave is going to be even bigger and better in its second year!
Staff are being encouraged to run, jog, walk, or use a wheelchair to complete the 10k route, to support physical and mental health and wellbeing. Everyone also has the option to fundraise for any ward or service across MFT.
Together, we'll cover a combined distance of 6,580km, the equivalent of running from Manchester to Atlanta, Georgia. The MFT blue wave was the first in the UK, set up in partnership with Great Run last year. Since then the Great Run Company have started working with NHS Trusts in Birmingham, Stockport and Portsmouth on similar initiatives.
This year, over 100 members of staff from Stockport NHS Foundation Trust will also be joining the blue wave for the first time, bringing the total number joining the blue wave to over 750. Up to 30,000 people in total will be taking part in the course, which will be packed with live music, charity cheering points, boost zones and incredible support from thousands of local spectators.
Volunteering
Volunteers are now needed, to cheer colleagues on and hand out water from 1pm. If you're interested, please contact charity.events@mft.nhs.uk  The route passes some of Manchester's most iconic landmarks and there is a great 'team' atmosphere and spirit.
Race Day Information
Everyone taking part will receive an email with all the race day information. If you haven't done so already, please redeem your race day token urgently, using the email from mailsend@greatactivity.org.
This Blue Wave Assembly Plan shows you where and when to meet – by 1pm at St Peter's Square. There will be an NHS banner to help you find us, and please do make sure to wear your Team MFT blue t-shirt on the day so we can spot each other.
Remaining T-Shirt Collection times:
Friday 9th May: 12.00pm-2.00pm (MFT Charity Office).
These easy-to-follow training plans will help you to prepare for the big day.
Read more
Team MFT 2018 Awards Nominees and Winners
Read more