Manchester University NHS Foundation Trust (MFT) is holding its first Annual Members' Meeting which is completely free and open to both our members and the public.  Our Chairman and Chief Executive would be delighted if you could join us at our 2018 meeting on:
Tuesday 25th September 2018 at 1.00 pm – 4.00 pm in the Post Graduate Centre, Manchester Royal Infirmary, Oxford Road, M13 9WL
There will be presentations from our Directors about our 2017/18 Annual Report & Accounts plus our future plans, with newly elected and nominated Governors being formally announced at the meeting.  The formal presentation will start at 1.30pm with the event theme being '70 Years On – Continuing to Shine'.
Staff from our hospitals will also be running information stands showcasing our achievements in patient care, treatment and research and the progress we have made since the Trust was established on 1st October 2017.
We would be truly delighted if you would join us in celebrating 70 years of the NHS and see how we are continuing to shine with our teams being on hand to talk to you about the high quality, safe and integrated care that they provide for you and your family, and how they are developing services for the future.  It's also a great opportunity to find out more about the benefits being delivered by the Single Hospital Service and to talk to your Governors.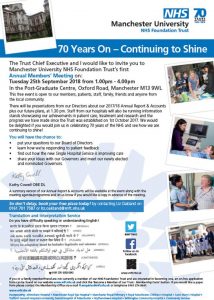 Click the image to download a flyer with more details about the Meeting and a map showing how to find the venue.
Don't delay, book your free place today!
Contact Liz Oakland on 0161 70 17587 or Liz.oakland@mft.nhs.uk
For a copy of our Annual Report and Accounts 2017/18, please go to our Reports and Publications page or contact Liz (details above).  A summary version will be available at the meeting.
If you would like to find out more about our Membership Events, please go to our Meetings page or contact the Foundation Trust Membership Office.