Our first adult patient has received transfusion of blood plasma from a donor who has recovered from coronavirus (COVID-19), as part of a clinical trial looking at potential treatments for the condition.
The REMAP-CAP research trial – which is currently taking place at more than 200 hospital sites across the world – is a multi-arm, adaptive platform trial. This means several different treatments can be tested at the same time under one 'platform', and more potential treatments can be added, or removed, as new evidence emerges.
REMAP-CAP has been open for a number of weeks at Manchester Royal Infirmary (MRI) and Wythenshawe Hospital, where our first patient took part in this trial on 23 April. As part of the study's adaptive design, a convalescent plasma arm has now been added, with the first patient receiving a transfusion of donated plasma at the MRI on 27 May.
Blood plasma is a yellowish liquid that makes up around half a person's blood volume. After a virus, plasma contains antibodies that are used to help fight infection. Convalescent plasma is the antibody-rich plasma of someone who has recovered from a virus, in this case COVID-19.
A patient at Royal Manchester Children's Hospital, which like MRI and Wythenshawe Hospital is part of Manchester University NHS Foundation Trust (MFT), was the first person in the UK to receive convalescent plasma through another of our COVID-19 treatment trials, RECOVERY.
NHS Blood and Transplant (NHSBT) is encouraging people who have recovered from COVID-19 to donate blood plasma for research purposes, which will help with the national effort against the virus. You can find out more about this and how to donate on the NHSBT website.
Dr Jonathan Bannard-Smith, a Consultant in Consultant in Intensive Care Medicine and Anaesthesia, is leading REMAP-CAP at MRI, with Dr Peter Alexander, a Consultant in Intensive Care Medicine and Anaesthesia, leading at Wythenshawe Hospital.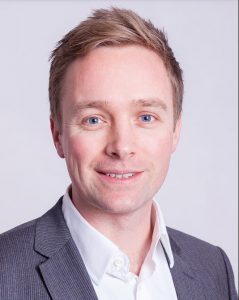 Dr Bannard-Smith said: "The primary aim of REMAP-CAP is to generate evidence that can be applied during the coronavirus pandemic in order to reduce deaths, prevent patients becoming critically ill and suffering complications.
"While the main outcome we hope for is to save lives, there are lots of other things we're looking at. Such as ensuring the transfusion of plasma is safe and how long do the donated antibodies last for – do they get cleared away or do they linger around? Do we then start making our own COVID-19 antibodies? These are all questions being studied as part of this research.
"The addition of the plasma element to this trial is really exciting, as plasma wasn't a drug we had sitting on the shelf that we could potentially repurpose as a treatment for COVID-19 – we really were only able to see the potential as people who had recovered came forward to donate their blood plasma.
"It really does come down to the kind people who have now generously donated their antibody-rich plasma to help other people. I'd like to say thank you to the people who have donated so far, and encourage others who have recovered from COVID-19 to look at the NHSBT website to see if you meet the criteria to potentially become a plasma donor."
Our patient taking part in the plasma arm of REMAP-CAP continues to receive care at the MRI and is being closely monitored by the hospital's ICU COVID-19 Research Team, including Joanne Henry, a Senior Clinical Research Nurse from the NIHR Clinical Research Network Greater Manchester, who administered the first REMAP-CAP plasma transfusion at our Trust.
Joanne said: "It's a really interesting time to be involved in research and it was so exciting to recruit our first patient to the plasma domain of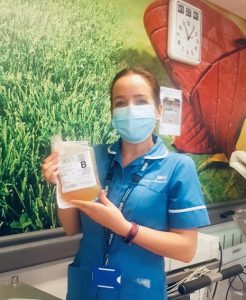 REMAP-CAP and administer the transfusion.
"It's a really special treatment and we hope this is a positive step forward in tackling the virus."
REMAP-CAP is one of a number of COVID-19 studies taking place at MFT. More information about all our COVID-19 research can be found on our Research and Innovation website.
The Randomised, Embedded, Multifactorial, Adaptive Platform trial for Community-Acquired Pneumonia (REMAP-CAP) is one of a number of COVID-19 studies that have been given urgent public health research status by the Department of Health and Social Care.
Nationally, almost 400 UK participants have been recruited to REMAP-CAP so far, with the convalescent plasma arm added to the trial in April.
It is funded by the European Commission and sponsored by the University Medical Centre Utrecht, in the Netherlands.