Results from a COVID-19 vaccine trial – to which Manchester University NHS Foundation Trust (MFT) consented the first global participant – are 'extremely positive'.
The Phase 3 'ENSEMBLE 2' study, which involved 6,000 UK participants, showed that two shots of the Johnson & Johnson COVID-19 vaccine, given 56 days after the first, provided:
100 per cent protection against severe/critical COVID-19 – at least 14 days post-final vaccination.
75 per cent protection against symptomatic (moderate to severe/critical) COVID-19 globally
94 per cent protection against symptomatic (moderate to severe/critical) COVID-19 in the US.
Further information and detailed results from the study can be found on the Johnson & Johnson website.
The trial opened at MFT in November 2020, with the Trust's Research and Innovation Vaccine Team recruiting 405 people to take part – exceeding its study target of 400 participants within just eight weeks.
Around 30,000 people participated worldwide, with the global trial closing in March 2021.
At MFT, Dr Tim Felton, Honorary Consultant at Wythenshawe Hospital and Clinical Lead for the Trust's COVID-19 research, was Principal Investigator for the ENSEMBLE 2 study.
Dr Felton said: "The results from this study are extremely positive.
"The world continues to require a range of vaccines to help tackle coronavirus and, as a Trust, we are very pleased to have delivered a trial of a highly successful COVID-19 vaccine".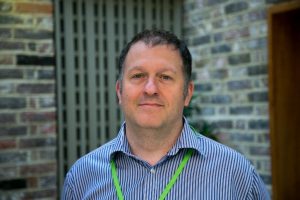 Dr Felton, who is also a Senior Lecturer at The University of Manchester and a researcher within NIHR Manchester Biomedical Research Centre (BRC) Respiratory Theme, added: "I am delighted that we were able to offer 405 people the opportunity to take part in this pioneering research, and I would like to thank every person who took part."
Once the efficacy of other vaccine candidates had been confirmed and licenced, participants in the placebo arm of the ENSEMBLE 2 study could either be unblinded and offered a licensed vaccine, or unblinded and enrolled into an active study arm where they could receive a single dose of the Johnson & Johnson COVID-19 vaccine. The ENSEMBLE 2 trial continues to collect longer term data from those participants still enrolled in the study.
Dr Claire Cole, Head of Research Delivery at MFT, was the first person in the world to be consented into the ENSEMBLE 2 trial, before later also becoming one of the first in the study to receive their first of two doses.
Dr Cole said: "I feel immensely proud about being involved in the study personally, but also that MFT was able to offer our Greater Manchester population the opportunity to take part in vaccine research at such an early stage in the COVID-19 pandemic.
"Following our successful delivery of this trial, we have been able to build on our experience and open a range of vaccine studies at our Trust, offering people in our region the opportunity to be part of pioneering research which could potentially protect them against a variety of infections."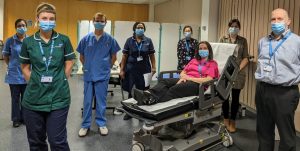 At MFT, the trial was delivered in collaboration with the NIHR Clinical Research Network Greater Manchester (CRN GM).
Across the UK, volunteers from a variety of age groups and backgrounds – including some of the thousands who registered to be contacted about vaccine studies through the NHS COVID-19 Vaccine Research Registry – took part in this research.