The NIHR Immune Mediated Inflammatory Disease (IMID) BioResource recently hit a major recruitment milestone of 2000 volunteers, thanks to the collaborative effort of centres across England.
Part of the wider national NIHR BioResource, the NIHR IMID BioResource recruits volunteers with IMID conditions such as rheumatoid arthritis, psoriasis, and lupus, who are available to be recalled for future research studies.
Launched in Manchester in September 2020, the project has developed through close collaboration between northern Biomedical Research Centres (BRCs) – Manchester, Leeds, and Newcastle – with Manchester University NHS Foundation Trust (MFT) acting as sponsor and support from the NIHR Manchester Clinical Research Facility (CRF) and The University of Manchester.
In Greater Manchester volunteers are being recruited across several sites, including hospitals within MFT, the Northern Care Alliance NHS Foundation Trust, Wrightington, Wigan and Leigh NHS Foundation Trust, and Stockport NHS Foundation Trust. Since the launch, the project has expanded to over 58 sites across 34 NHS trusts in England, with the aim of recruiting 16,000 volunteers nationally.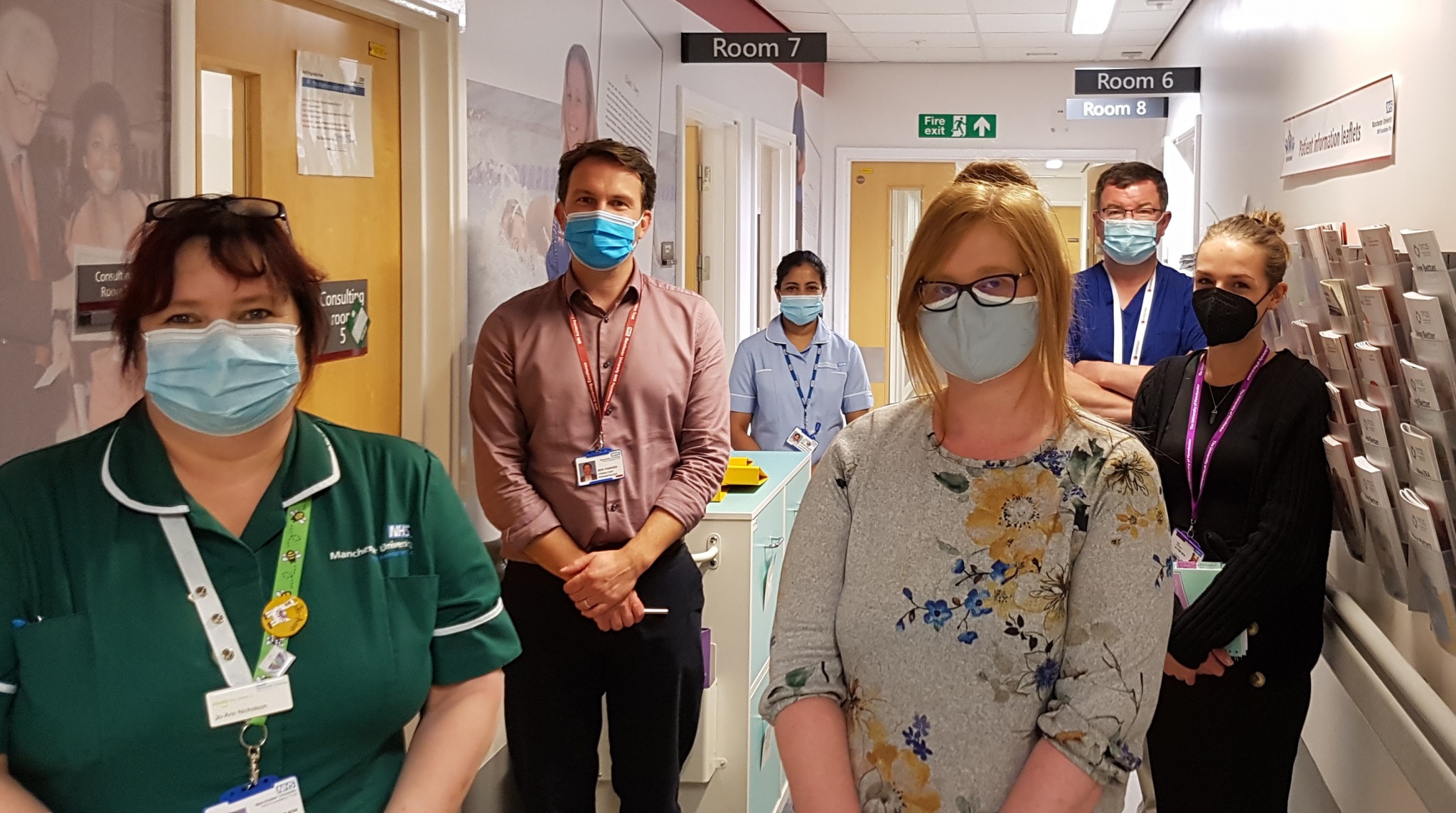 Professor Ian Bruce, Director of Manchester BRC, Consultant Rheumatologist at the Kellgren Centre for Rheumatology (based at MFT's Manchester Royal Infirmary), and Chief Investigator for the NIHR IMID BioResource, said:
"IMID conditions like rheumatoid arthritis, lupus, and psoriasis affect many people in the UK and have a significant impact on their quality of life. By building a large cohort of IMID patients who are willing to take part in research, the IMID BioResource aims to support pioneering research between the NHS, universities, and industry. Such research will help us to better understand these conditions and develop new treatments for patients.
"It is fantastic to see the IMID BioResource reach 2,000 volunteers, and we're incredibly grateful to each and every one of them, as well as colleagues across all of our recruitment centres who have worked incredibly hard to support the effort.
"The partnership between Manchester, Leeds and Newcastle Biomedical Research Centres and our respective hospitals was vital in getting the IMID BioResource off the ground. These strong ties really helped to support early recruitment and showcased the collaborative effort among our northern BRCs. This has allowed us to go from strength to strength in expanding recruitment to centres across England."
While IMID diseases can affect different areas of the body, they all trigger the body's immune system to fight itself, which causes inflammation. These conditions are very common and affect a large proportion of people in the UK – with rheumatoid arthritis alone affecting over 400,000 people – around one per cent of the UK population.
During recruitment, volunteers give a small blood sample and health and lifestyle information, which is stored in the NIHR BioResource national database which researchers can subsequently use to find potential study participants.
COVID-19 has impacted recruitment to many research studies, including the IMID BioResource, due to changes in hospital clinics and many people with IMID conditions being advised to shield during the pandemic. However, IMID centres have adapted their approaches to safely maintain recruitment during COVID-19.
George Twigg, Clinical Trials Coordinator for Leeds BRC, said:
"Through the innovative thinking and hard work of both our IMID study team, and teams across our host organisation Leeds Teaching Hospitals NHS Trust, we were able to overcome some of the difficulties caused by COVID-19.
"Together we produced a mass mailout to our IMID patients with information on the IMID BioResource, which helped encourage participation until we could approach prospective participants face-to-face again in clinics. Clear and effective infection prevention and control measures from our Trust and screening participants for COVID-19, also helped to reassure both visiting patients and our staff."
Newcastle BRC's Dr Emma Raine, IMID BioResource Manager, added:
"The Newcastle team feel privileged to have come together in collaboration with the other Northern BRC's to set up the IMID BioResource. We have been a recruiting centre to the NIHR BioResource since 2014, so our team had a wealth of experience to share when supporting the setup of the IMID BioResource.
"We were also able to share our expertise in developing a local version of the REDcap database, which is used to securely store participant information for research studies, including the NIHR BioResource. One of the great things about REDCap is that staff at all our sites across the UK can enter data directly into the system, allowing us to streamline our processes and cutting down on paperwork."
Visit the NIHR BioResource website for more information, or contact the IMID team on IMID@Manchester.ac.uk.