MFT Annual Members' Meeting: 'Team MFT: Together Caring for You'
Download agenda
Tuesday, 21st September 2021 
Our Chairman and Chief Executive would be delighted if you would take the time to watch our Annual Members' Meeting (AMM) pre-recorded presentations.
We are using the virtual format again this year, to protect our members and the wider public while the coronavirus pandemic continues.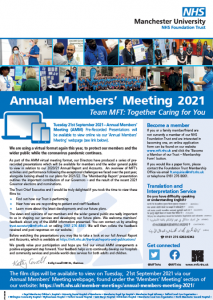 Our Directors update you on MFT's activities and performance following the exceptional challenges we faced in 2020/21, and look ahead to our plans for 2021/22.
The 'Membership Report' films outline the important contribution of our Governors – and the result of 2021 Governor elections and nominations.
By viewing these films, you will be able to:
Find out how our Trust is performing
Hear how we are responding to patient and staff feedback
Learn more about the latest developments and our future plans.
We would welcome your AMM feedback
The views and opinions of our members and the wider general public are really important to us in shaping our services and developing our future plans. We welcome members' and the wider general public's feedback about any of the AMM information presented. You can contact us by emailing trust.secretary@mft.nhs.uk or calling 0161 276 4841. We will then collate the feedback received and post responses on this webpage.
If you have a specific concern/complaint, please contact contact our Patient Advice and Liaison Service via: +44 (0)161 276 8686 / pals@mft.nhs.uk
Before watching the films, you may like to take a look at our full Annual Report and Accounts, which is available at https://mft.nhs.uk/the-trust/reports-and-publications/
And to find out more about the positive achievements and developments happening across the Trust, do please read the latest issue of MFT News our dedicated magazine for MFT members and the wider public.