Annual Young People's Event
Annual Young People's Event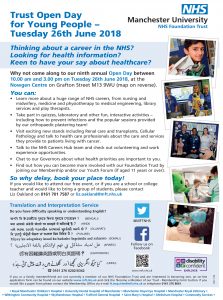 Our ninth annual NHS Open Day for Young People (aged 11 – 21 years) which was completely free and open to our members (public and staff), schools and colleges and members of the general public was held on Tuesday 26th June 2018 in the Nowgen Centre on Grafton Street, Manchester, M13 9WU (next to Manchester Royal Infirmary).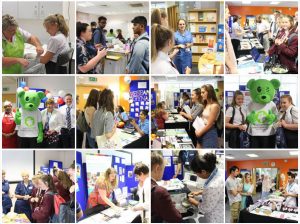 As well as stands covering NHS careers ranging from Nursing and Midwifery, Play Specialists, Physiotherapy and Cancer Care to Medical Photography, Medical Engineering, and many more, there were a number of brand new stands for 2018.  These included clinical stands focusing on Renal Medicine and laboratory sessions focusing on Cellular Pathology in addition to non-clinical stands promoting Library and Food Catering Services and associated careers.
Popular interactive sessions this year included learning how to do CPR (basic resuscitation), accident prevention, using microscopes to identify cells, finding out more about diseases of the circulation, including veins and arteries, and learning ways to beat the bugs that cause infections. Young attendees also participated in the popular activities provided by our Orthopaedic plastering team!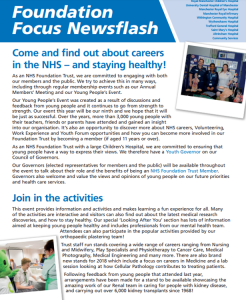 Visitors were also able to get plenty of information and advice about looking after their mental and emotional health, dental and eye care and healthy eating, as well as finding out about how to become more involved in our hospitals by becoming a member and/or joining our Youth Forum (if aged 11 years or over) or becoming a volunteer in our hospitals and access work experience opportunities (if aged 16 years or over).
The next Young People's Event will be held on Tuesday, 25th June 2019 at 10.00am – 3.00pm in the Nowgen Centre, Grafton Street, Manchester, M13 9WU.  We would be delighted if you would join us.  For more details, please visit our 2019 Young People's Event webpage.