Annual Members' Meeting
2019 – Annual Members' Meeting
Was held on Tuesday 24th September 2019 at 1.00pm – 4.00pm in the Post-Graduate Centre, Oxford Road Campus, M13 9WL.
Attendees were able to:
listen to how our Trust has performed in 2018/19, find out more about our plans for the future, and receive information on our Membership and Governor initiatives
hear how we are responding to feedback from patients, staff and members
share their views and suggestions with our Board of Directors and Council of Governors
help to celebrate our Care Quality Commission rating of 'Good'.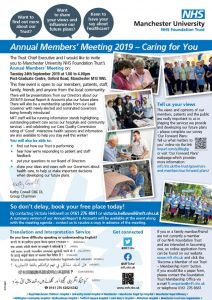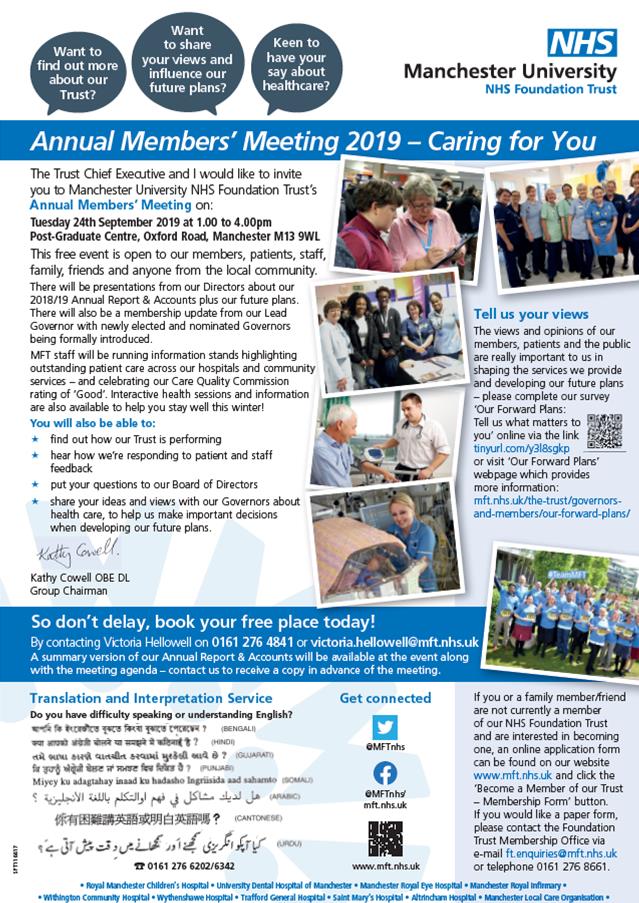 This free event was open to members (public and staff) and the general public.
There were presentations from our Directors about our 2018/19 Annual Report & Accounts plus our future plans, and a membership update from our Lead Governor with newly elected and nominated Governors being formally introduced.
The theme for this year's meeting was 'Caring for You', with stands and information available to highlight the outstanding patient care across our hospitals and community services.
We celebrated our Care Quality Commission rating of 'Good' and there were also interactive health sessions to help attendees stay well this winter!
Click the image to download a flyer which provides more details about the Meeting.
Visit our Reports and Publications page to see a copy of our full Annual Report and Accounts 2018/19.  Click here for the summary version – hard copies were available at the meeting or by contacting: victoria.hellowell@mft.nhs.uk]
Visit ''Our Forward Plans' webpage for more information.
How to Join Membership of our NHS Foundation Trust
If you, your family, friends or colleagues are interested in becoming a public member of our Trust, application is easy, completely free and open to anyone aged 11 years* or over who live in England and Wales with our 'Membership Application Form' being available via: