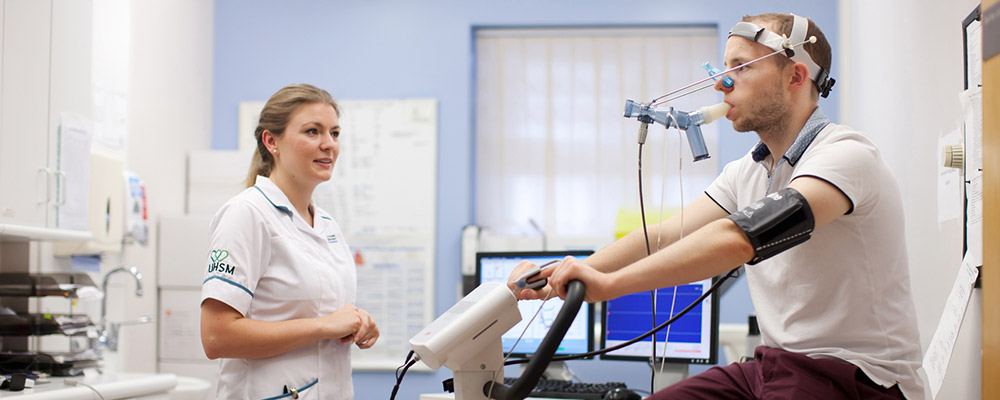 We provide specialised services for patients with severe asthma to provide specialist treatment, help patients manage their symptoms and improve their quality of life.
Asthma is a disease of the breathing tubes or airways which causes the airways to narrow and become inflamed. Treatment helps reduce inflammation and narrowing. Dr Rob Niven is the Clinical Lead for the Asthma Service and Professor Ashley Woodcock and Professor Angela Simpson are the Research Leads.
Asthma is one of the most common conditions in the UK today, affecting one in five households in England and Wales. Severe or difficult asthma is the definition used to describe those people who suffer from asthma attacks (exacerbations) even if they are receiving high levels of treatment, or are regular users of high dose inhaled or oral steroids.
Your treatment team
MFT has a team of healthcare professionals who provide specialised inpatient and outpatient care for patients with severe or difficult asthma, including specialist nurses, physiotherapists, a clinical psychologist, allergy specialist and respiratory consultants. Our Severe Asthma Service not only provides an excellent clinical service but also produces a significant amount of research into asthma through clinical trials, the academic programme based at the North West Lung Centre, and collaborations with the University of Manchester. This means we are at the cutting edge of new asthma treatments.
We are one of the UKs leading severe asthma centres and act as a 'hub' for a network of specialised asthma units in the North West and North Wales. This means that patients can access the same high quality specialised asthma services regardless of their postcode in the region.
Our Services
We provide assessment, treatment, support and advice to patients with severe and difficult to control asthma. Our ethos is to offer holistic, personalised care through a specialised team of health professionals.
We also have a clinic for patients who may have had a flare up of mild or moderate asthma who have attended hospital, to provide a thorough review asthma treatment, provide education on self-management and a tailored asthma management plan.
Tests and treatment
A wide range of tests are available to assess severe asthma in detail so that we can personalise treatments to the type and pattern of asthma each individual patient has. This includes; detailed lung function, measurement of and inflammation in the lungs, blood tests, allergy tests, CT scan and bronchoscopy. We also provide access to new tests that are in the research phase and not yet available on the NHS, to help us understand patterns of asthma even more thoroughly.
Specialist treatments we offer in addition to standard asthma therapy include: Bronchial Thermoplasty, Anti IgE therapy with Omalizumab, Steroid-sparing agents, and Anti-fungals (in collaboration with the National Aspergillosis Centre at MFT).
Patients can also take part in clinical trials of new therapies such as monoclonal antibodies and new inhaled therapies. We also offer non-drug treatments such as physiotherapy, counselling and psychology services.
Research
We are one of the UKs leading centres for research into asthma and allergy. We perform a large range of studies from lab based research to large clinical trials. We are currently one of a few UK centres part of the RASP-UK Consortium which brings together a partnership of clinical and academic excellence from UK Universities, NHS Severe Asthma Centres and Pharmaceutical Industry. The primary aim is to target steroid treatments more effectively, understand why some patients do not respond to steroids and develop new strategies and treatments for managing such patients.
You can learn about our leading research work, how this benefits patients, and how you can get involved, by visiting our research facility pages.
Referrals
You can be referred by your GP to the severe asthma service at MFT or by your chest physician if you are under a hospital chest clinic.
Contact us
Phone: 0161 291 5496 / 0161 291 2834 (secretaries)
Email: asthma@uhsm.nhs.uk
Location
The nearest car park to North West Lung Centre is in front of the Acute Block, we can offer a discounted parking ticket. Please ask the team on arrival and we can arrange this for you on your first visit. Disabled parking is free for Blue badge holders and all locations are clearly signposted.
On arrival please report to the North West Lung Centre in the Yellow Zone, located at Entrance 5.