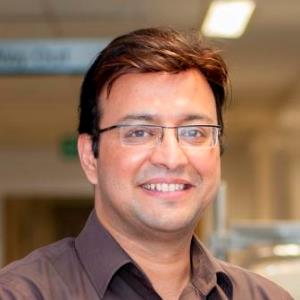 Dr Arindam Mukherjee
NICU Audit Lead and Consultant Neonatologist
Qualifications:
MBBS DCH MRCPCH MRCP (Ireland)
Special Interests:
Functional echocardiography; Regional circulation and neonatal haemodynamics.
Biography
Dr Mukherjee qualified in India in 1995 and underwent post graduate training in Paediatrics in India. He completed his UK CCT training in 2013 as a subspecialty grid trainee in neonatology at St Thomas Hospital, Kings College Hospital and St Georges Hospital in London.
He has a special interest in cardiology and his primary areas of expertise include functional echocardiography, regional circulation and neonatal haemodynamics.
He is a member of PECSIG (Paediatricians with expertise in Cardiology Special Interest Group). He is also a core member of NICHe (Neonatologists with interest in Cardiology and Haemodynamics).
He took up the consultant post at Saint Marys Hospital in 2014 and has run independent echocardiography clinics. He is an NLS instructor and enjoys teaching echocardiography to the Neonatologists, neonatal grid trainees and paediatric trainees with an interest in cardiology. He is also the audit lead in the Neonatal Unit.