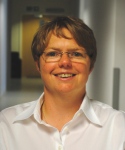 Dr Cathrine Holland
Consultant Gynaecological Surgeon and Oncologist
Qualifications:
MRCOG, PhD, FHEA
Special Interests:
Gynaecological cancer surgery; Laparoscopic (keyhole) surgery; Colposcopy; Risk-reducing surgery for women at high risk of ovarian or uterine cancer
Biography
Dr Holland graduated in Medicine from Nottingham University in 1992. She trained in Obstetrics and Gynaecology in Nottingham, Derby and East Anglia. She completed her higher specialist training in gynaecological cancer surgery in Cambridge (2005) and was awarded a PhD from Cambridge University for researching uterine cancer.
Dr Holland and was appointed as Consultant at Saint Marys Hospital in 2005.  She has published original work in endometrial cancer research and book chapters in the field of cancer care. Since being appointed she has established sentinel node surgery in the management of vulval cancers.
She is a past member of the Academic Committee of the Royal College of Obstetricians and Gynaecologists (RCOG). She is currently Deputy Chair of the University of Manchester Ethics Committee.