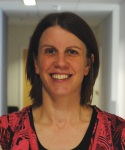 Professor Jenny Myers
Professor of Obstetrics and Maternal Medicine/Consultant Obstetrician (Saint Mary's @ Oxford Road Campus)
---
Qualifications
BM BS PhD MRCOG
---
Special Interests
Maternal Medicine, diabetes and hypertension in pregnancy
---
Biography
Dr Myers is Professor of Obstetrics & Maternal Medicine within the Maternal & Fetal Health Research Centre, University of Manchester and Consultant Obstetrician, St Mary's Hospital, appointed in 2011. Jenny is lead obstetrician for the Manchester Maternal Medicine service and runs two translational research clinics for women with hypertension and diabetes.
She currently leads a portfolio of clinical and laboratory science studies which spans vascular and placental biology research, preclinical models, observational cohort studies and intervention trials before, during and after pregnancy.
Jenny is also the lead site investigator for several multicenter studies related to hypertension and diabetes in pregnancy. Jenny is the Maternal Medicine representative for the British Maternal & Fetal Medicine Society, is a Specialist Editor for PlosMedicine, President of the RCOG Blair Bell Research Society and has served on several NICE committees.
Contact
Secretary: 01612766116