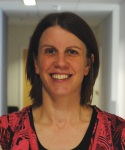 Dr Jenny Myers
Senior Clinical Lecturer/Consultant Obstetrician
---
Qualifications
BM BS PhD MRCOG
---
Special Interests
Maternal Medicine, diabetes and hypertension in pregnancy
---
Biography
Dr Myers completed her specialist training in Obstetrics at Saint Mary's Hospital and was appointed is a Senior Lecturer/Consultant Obstetrician in 2011.
She has a specialist interest in diabetes and hypertension in pregnancy and combines her clinical work with an active research programme. She leads several clinical and basic science research studies within the Maternal and Fetal Health Research Centre and runs a specialist clinical research clinic, Manchester Antenatal Vascular Service (MAViS), which cares for women with a history of high blood pressure.
Dr Myers was awarded the William Blair Bell Memorial Lectureship by the Royal College of Obstetricians and Gynaecologists (RCOG) in 2009. This is given to a clinician who has made an outstanding contribution to research in the field Obstetrics and Gynaecology. Her work related to pre-eclampsia has been published in many international research journals and she has contributed to several book chapters and regional clinical guidelines.
Dr Myers serves on the Blair Bell Research Committee, is a member of the British Maternal and Fetal Medicine Society and RCOG Maternal Medicine Clinical Studies Group. She is also a scientific editor for the British Journal of Obstetrics and Gynaecology.