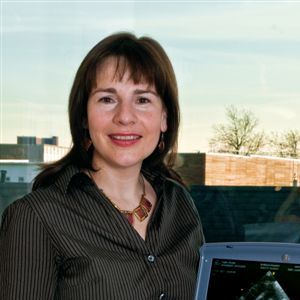 Dr Ruth Gottstein
Consultant Neonatologist
Qualifications:
F.R.C.P.C.H. M.Sc. D.C.H. D.Obs.
Special Interests:
Neonatal Cardiology & Echocardiography
Biography
Dr Ruth Gottstein graduated from Trinity College, Dublin, Ireland and pursued her paediatric and neonatal subspecialist training in the UK.
Dr Gottstein has a very strong educational portfolio with her involvement with Health Education North West (HENW), Royal College of Paediatrics & Child Health (RCPCH) and Resuscitation Council UK. She is currently the Associate Head of School of Paediatrics at the Health Education North West (HENW). She was the Training Programme Director for School of Paediatrics ST1-3 trainees HENW (Greater Manchester & Lancashire) before taking on the role of associated head of school of Paediatrics, HENW. She holds the RCPCH post for Neonatal College Specialty Advisory Committee (CSAC) Assessment Advisor and also holds other RCPCH posts as the RCPCH Certificate of Eligibility for the Specialty Register (CESR) Assessor since May 2018 and the RCPCH Specialty Trainee Assessment of Readiness for Tenure (START) Assessor since 2013.
She has been one of the pioneers in establishing Simulation based medical education in neonates in the country and is the RCPCH lead for neonatal simulation in HENW (Greater Manchester & Lancashire) since 2012. Dr Gottstein has been one of the pillars in development of the new Advanced Resuscitation of Newborn Infant (ARNI) course under the auspices of the Resuscitation Council, UK, supported by funding from BLISS, the newborn charity. This is now a national course aimed at healthcare professionals with regular exposure to newborn emergencies, mainly senior paediatrician's middle grade and above and experienced neonatal nurses. She is an NLS & ARNI Instructor and Course Director. She is also an instructor and course co-director for the Generic Instructor Course (GIC) conducted by Resuscitation Council, UK and The Advanced Life Support group (ALSG), UK. Dr Gottstein co-developed the Regional North West Neonatal Simulation 2 day course for paediatric trainees and nurses (also called the pre-ST4 NeoSim course) along with Prof N J Shaw, of Liverpool Women's Hospital, which has now been running successfully 4 times a year in the northwest of England.
Dr Gottstein supervises and assesses trainee Advanced Neonatal Nurse Practitioner (trANNPs) undergoing their Masters level qualification. She is a faculty in teaching and assessing midwives undergoing the Examination of the Newborn course. She has also been the Neonatology Specialist Committee Member for NICE (The National Institute for Health and Care Excellence) Diagnostic Advisory Committee for the investigation of high throughput non-invasive prenatal testing (NIPT) for fetal Rh D genotype & for tests to help predict preterm labour in women with intact membranes.
She is involved in many research projects and was the chief investigator of British Paediatric Surveillance Unit (BPSU) survey of Neonatal Exchange Blood Transfusion in UK and Ireland. She has multiple publications mainly on neonatal simulation programme in trainees, British Guidelines on transfusion for fetuses, neonates and older children.
Associate Head of School of Paediatrics HENW (Greater Mcr & Lancs)
RCPCH Neonatal Medicine College Specialty Advisory Committee (CSAC) – Assessment Advisor