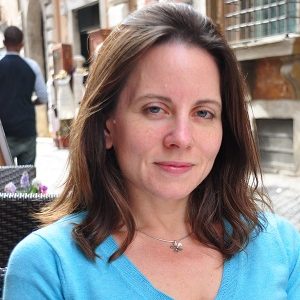 Georgina Hall
Consultant Genetic Counsellor & Honorary Lecturer
Qualifications: MA MSc
Registration: GCRB 106
Professional bodies: Association of Genetic Nurses and Counsellors, British Society for Genetic Medicine, UK Eye Genetics Group, European Association for Vision and Eye Research.
Role: Consultant Genetic Counsellor
Contact:0161 276 6206
Biography:
Georgina Hall has a degree in Genetics from Cambridge University (1990-1993) and completed the Masters in Genetic Counselling at the University of Manchester (1993-1995). She has worked in Genetic Medicine in Manchester since 1995, as a Principal Genetic Counsellor from 2007 and a Consultant Genetic Counsellor from 2012. Her specialist interests include ophthalmic genetics, co-ordinating a number of research grants including a Fight for Sight programme grant (2010–2015) to develop services for inherited retinal dystrophy. Georgina was the Chair of the Association of Genetic Nurses and Counsellors (2005). She led the successful application for statutory regulation by the HPC (2009) and now chairs the Joint Committee on Genetic Counsellor Regulation.
Clinics: Ophthalmic genetic clinics (adult and paediatric) at Saint Mary's Hospital and Manchester Royal Eye Hospital, general genetics clinic Lancaster Royal Infirmary, Genetic Counsellor led cancer, general, prenatal and urgency clinics at Saint Mary's Hospital.