Join an organisation where your caring nature will go a long way. People become Nursing Assistants and Maternity Support Workers at Manchester University Foundation Trust for lots of very good reasons.
The satisfaction of caring for patients that rely on you; the chance to start a rewarding NHS career where you can learn, train, and grow more than you ever thought possible; some of the best benefits you'll find anywhere & job security in these uncertain times. And we can promise you one thing: this is the most rewarding work you can imagine. You'll finish every shift knowing you've made lives better for the people you've cared for. It really is all here for you.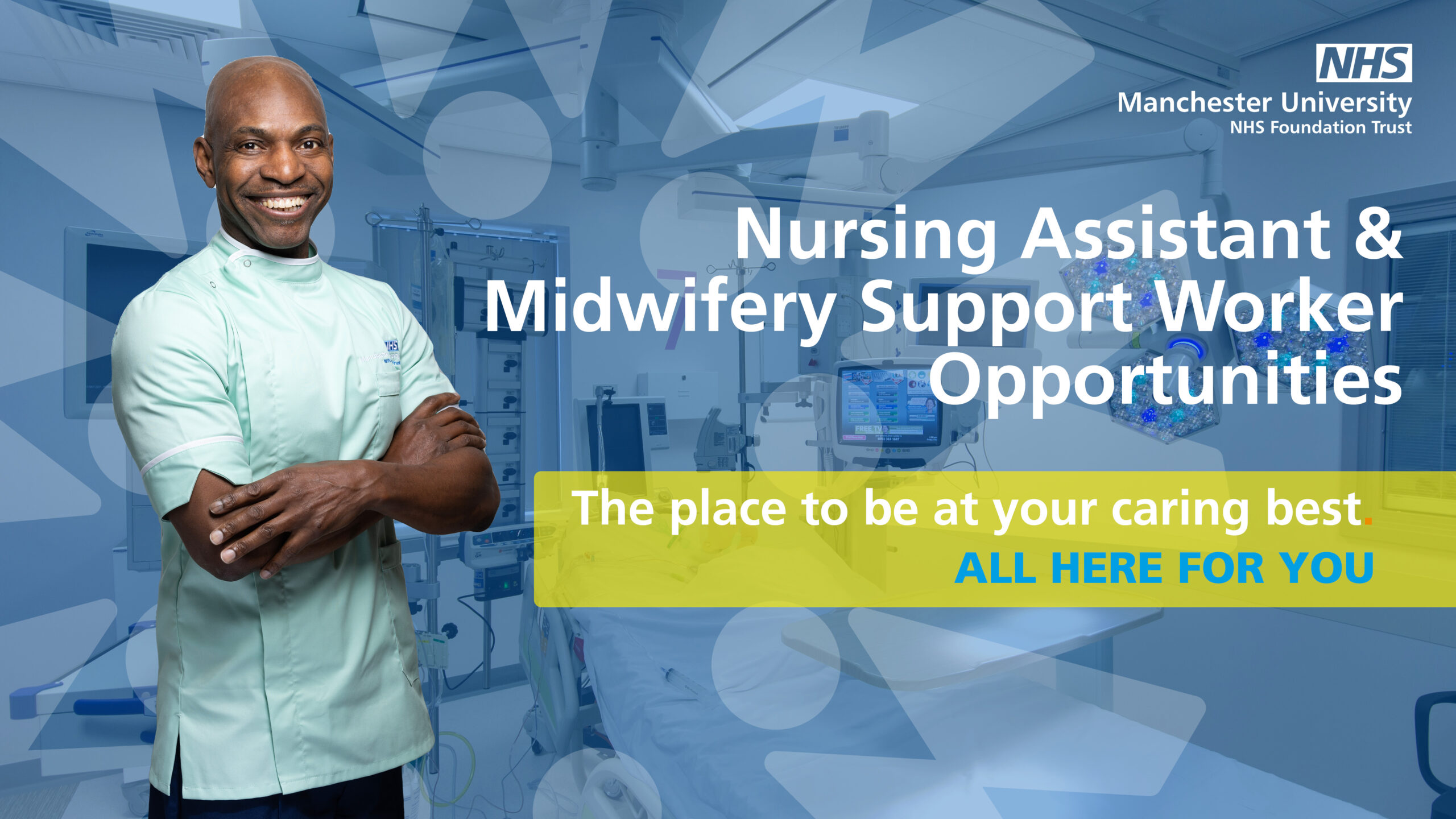 A diverse organisation caring for a diverse city.
At MFT, we bring together hospitals and community services from across Manchester, Trafford and beyond, pooling our knowledge, skills, and resources to be the best for our patients, and each other. What does that mean for you? A great way into the NHS today and lots of great career opportunities for as long as you want them. You'll work with some of the best people in the field, and you'll learn every single day.
Our city is a proud, diverse place full of spirit, energy, and colour. You'll be side-by-side with the most diverse range of colleagues, helping people from all walks of life when they need you most.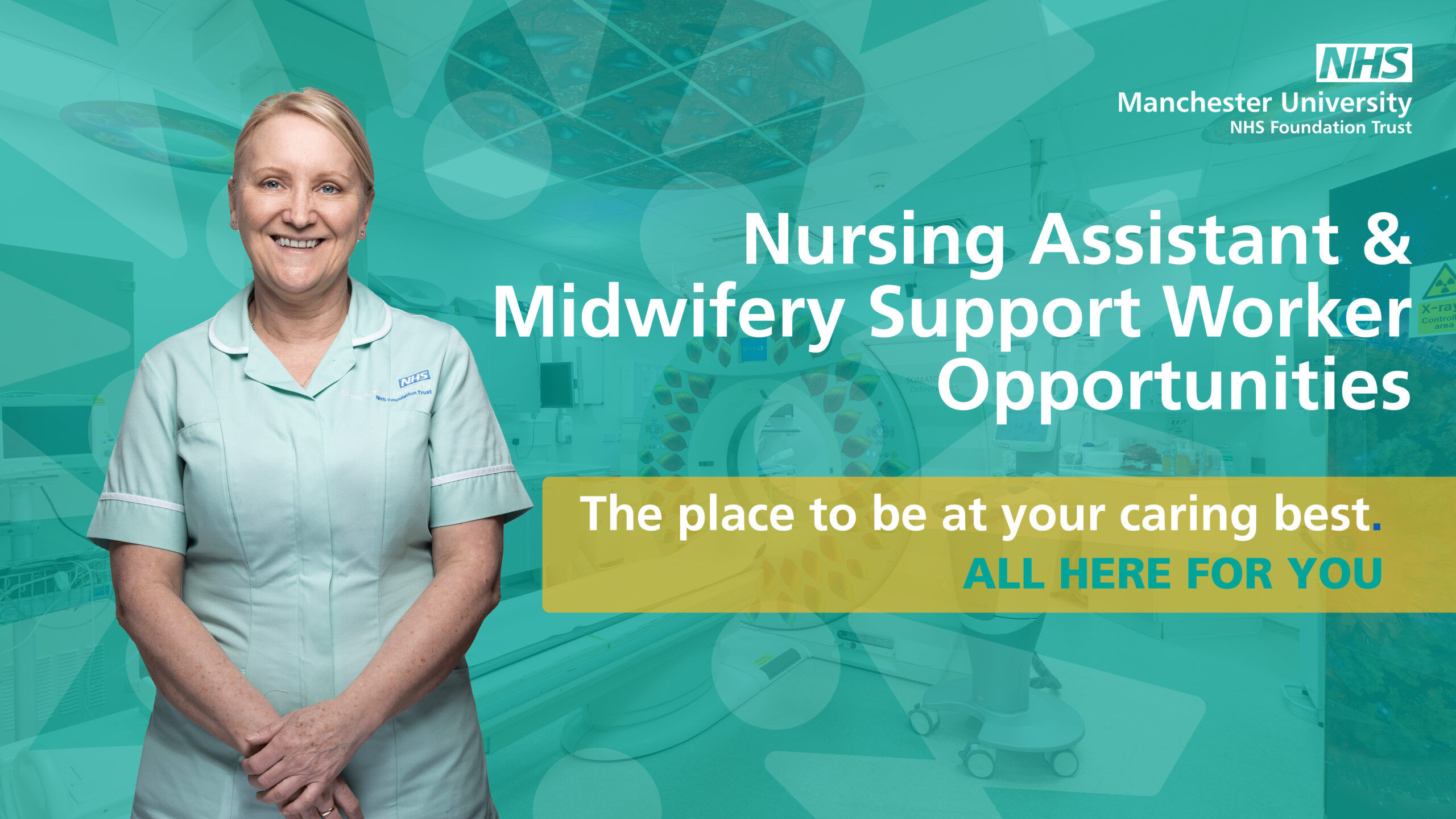 The roles
Healthcare in this region really couldn't work without our brilliant Nursing Assistants and Maternity Support Workers. They work flexibly over 7 days a week (including bank holidays), across a range of day and night shifts.
Shift patterns
Your working shifts will be allocated to you in the form of an electronic staff roster. Shift days and type will vary depending on the requirements of the Ward you'll be allocated to on a permanent basis. The good news is your working pattern will be issued to you in advance for each roster period, enabling you to plan your home life around this. It will include midweek and weekend shifts as well as days and nights to ensure our patient are cared for 24/7.  Social and unsociable working hours are distributed evenly across all Nursing Assistants/Maternity Support Workers, and you'll be able to indicate your preference as part of our Trusts rostering process.
Here are some of our shift patterns outlined for you, but it's important to note that they vary depending on the Hospital/Managed Clinical Service and the location you are based at:
Earlies – 07:30 – 15:30 (30-minute break)
Lates – 12:30 – 20:30 (30-minute break)
Long Days – 07:30 – 20:30 (60-minute break)
Nights – 20:30 – 07:30 (60-minute break)
Key tasks involved
Key tasks – For both Nursing Assistants and Maternity Support Workers, the roles are varied and vital. You'll be there to help patients with:
Washing and dressing
Moving around
Visiting the toilet
You'll also monitor patients' conditions by taking their temperature and pulse, checking respiration, and measuring weight. As well as helping create the right conditions for patients to rest and sleep, you'll make sure people have any religious and cultural needs met.
This is just a small snapshot of these vital roles. There will be lots to think about. As a Nursing Assistant, you might work with patients who have a physical disability, have dementia or who suffer from anxiety. As a Maternity Support Worker, you could play a key role in supporting women with all aspects of infant feeding. Whatever reason a loved one is in our care, it takes its toll on their family too. You'll treat every person you come across with dignity, respect, kindness, and patience.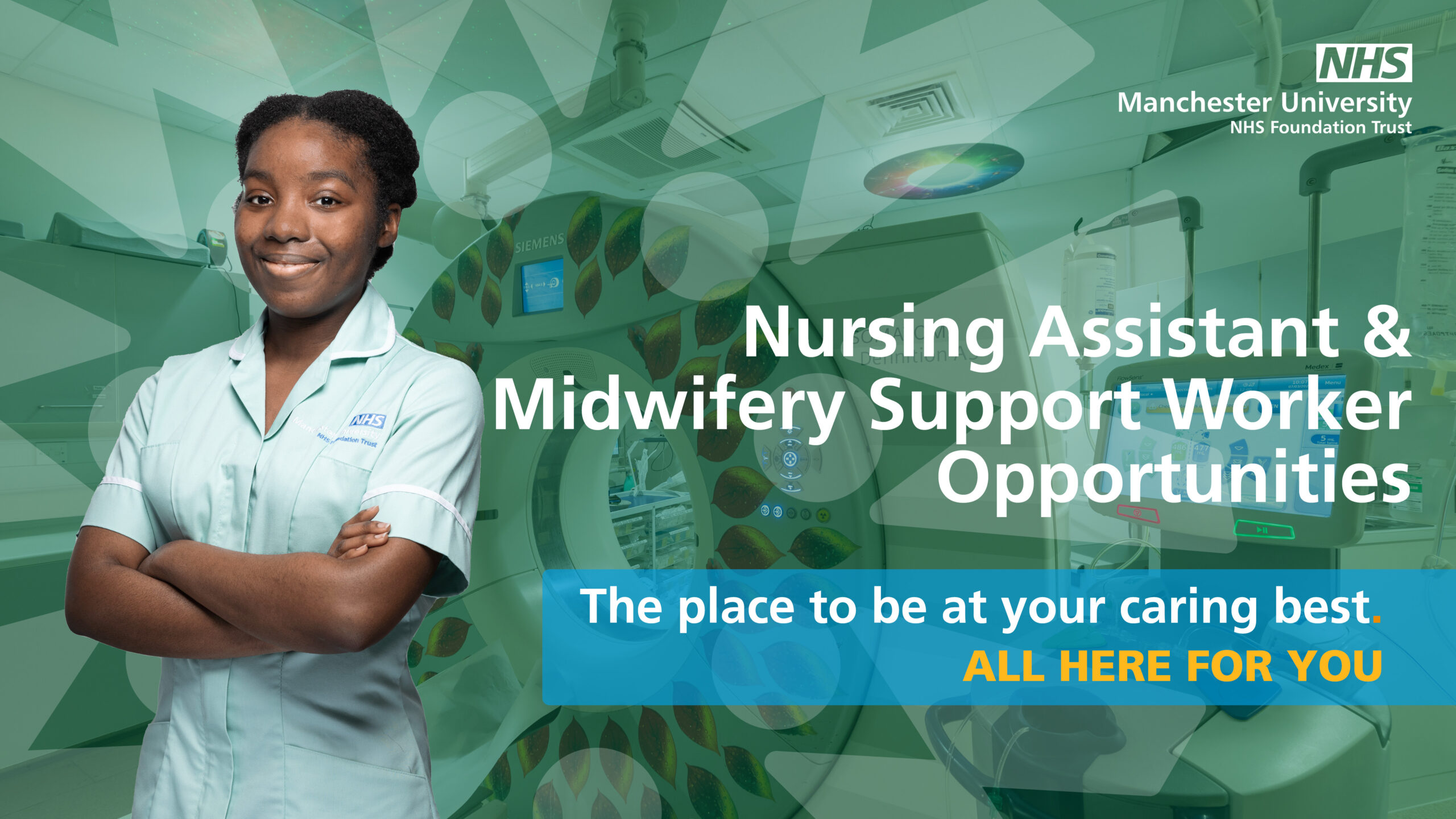 Our Nursing Assistants and Maternity Support Workers are passionate, committed, and approachable. They will always support you to develop your knowledge and skills.
Hear from Errol, Jo, Abraham and Lucy to learn about their experiences and what makes a career with MFT special.
One of the great things about MFT as an employer is where you'll find us. We have hospitals, managed clinical services and community services across Manchester and Trafford. So, if you're interested in becoming a Nursing Assistant or Maternity Support Worker with us, there's a very good chance there's a hospital or a community setting accessible to you.
These include hospitals/managed clinical services on our Oxford Road site, including Manchester Royal Infirmary, Saint Mary's Hospital and Royal Manchester Children's Hospital. Alternative locations could be Wythenshawe Hospital, & North Manchester General Hospital as well as within the community setting.
Each of these sites and services have their own history, atmosphere, and unique features. But what binds them together is their collective commitment to caring for patients and our workforce.
Each site has very good public transport links and there's public parking available at each location & rates vary in price depending on which cark par you choose to use. We know your role at our Trust will be busy and demanding so we've developed excellent amenities for food and refreshment, places to take breaks, and places of prayer for those who are religious or just time out for reflection.
We want you to feel you can bring your whole self to work at MFT and we're always evolving the staff experience to support that.
What you need to apply & the training we provide for you
The NHS has some of the best benefits you'll find anywhere.
We particularly love the Blue Light Card. Available for all NHS staff it gives you access to over 15,000 discounts from large national retailers to local businesses. It covers everything from holidays to cars, days out to fashion, insurance to phones.
But let's give you the full story on the rest of our offer:
Excellent NHS Pension package – Fully protected against inflation.
Salary – Join us as a Band 2/3 from £22,383 – £24,336 – dependent on review of evidence of prior learning.
Generous holidays – Starting at 27 days per year (plus bank holidays), increasing to 29 after five years' service and rising again to 33 after 10 years' service.
On site Nurseries at the Oxford Road & Wythenshawe sites – You can pay for this facility through our salary sacrifice scheme. Our two nurseries include:

Day Nursery – First Steps Day Nursery is based on MFT's Oxford Road site for children aged 6 months to 5 years
Kids Planet Day Nursery – Based on MFT's Wythenshawe site for children aged 6 weeks to 5 years
Employee Health & Wellbeing – We deliver a range of services including Fitness for Work support, rapid access physiotherapy, emotional resilience and wellbeing training, immunisation, and vaccination programmes.
Rewards & Benefits Hub – A recently created staff platform which acts as a one stop shop for all things 'benefits' – from high street discounts, travel savings, cycle to work schemes to reduced rates on hotels and spa days.
Chaplaincy Services – We provide spiritual, religious, and non-religious support for all staff, patients & visitors.
Staff Networks – We're committed to the aims within our Diversity Matters Strategy and work in partnership with our colleagues to ensure that the Trust has a representative and supportive workforce. There are several Staff Networks that have been developed by our staff, including our BAME (Black, Asian, and Minority Ethnic) Staff Network, our Diverse Abilities Staff Network, and our LGBTQ+ (Lesbian, Gay, Bisexual, Transgender & Queer) Staff Network. We've also formed Religion/Faith Networks too, such as the Muslim Staff Network and the Hindu Staff Network.
Salary Sacrifice Scheme – We run a scheme which you can use part of your salary against a non-cash benefit which brings about savings for you– this can be used against set schemes we have in place for cars, bikes and accessories, car parking & day nursery.
Interest Free Travel Loans/ Discounted Travel – We offer interest free travel loans, enabling you to purchase an annual ticket for the Metrolink, Train, and Buses. You can also purchase a discounted weekly or monthly Stagecoach bus ticket.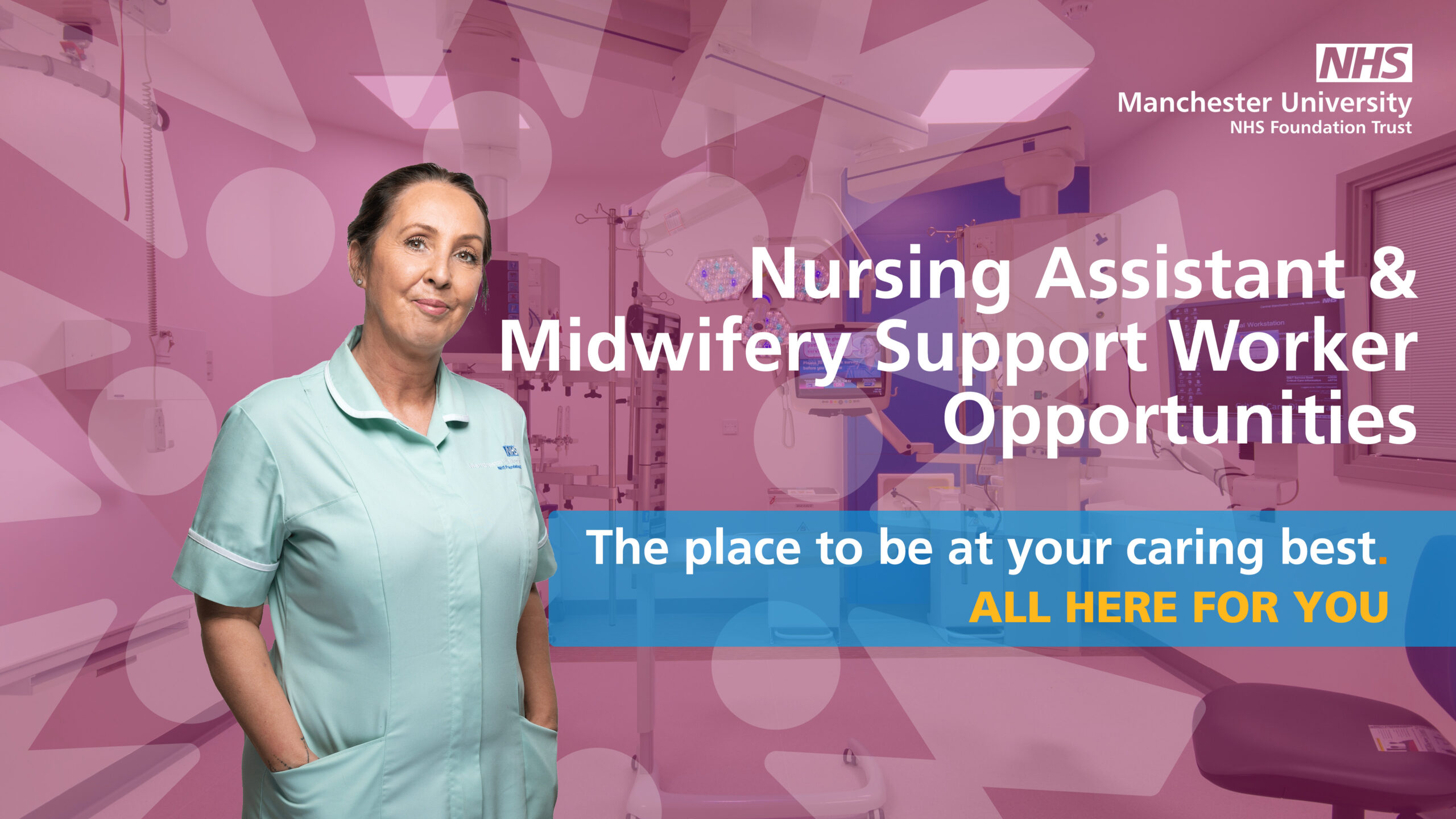 MFT is committed to promoting equality of opportunity, celebrating, and valuing diversity and eliminating any form of unlawful discrimination across our workforce, ensuring our people are truly representative of the communities we serve. All individuals regardless of age, disability, gender reassignment, marriage or civil partnership, pregnancy and maternity, race, religion or belief, sex and sexual orientation are encouraged to apply for our vacancies.
As an organisation, we are truly committed to being an employer of choice that recruits and develops staff fairly, so that talented people choose to join, remain, and develop within the Trust.
Our aim is to be a diverse workforce that is representative at all job levels, and we therefore positively welcome applications from the diversity of the population we serve.
Equal opportunities are a key guiding principle to all our work including that our recruitment practices provide equal access to all.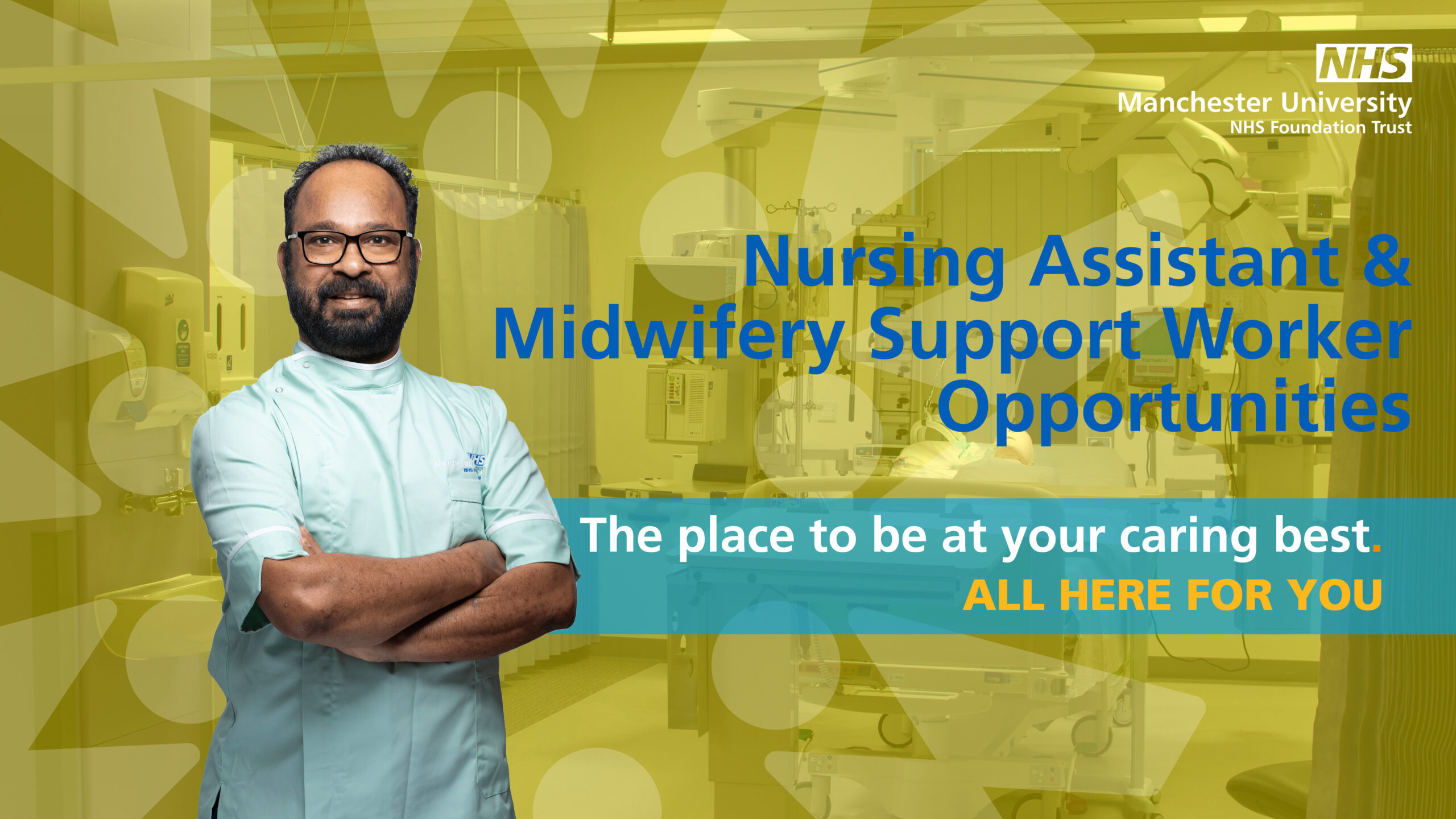 We'd love to receive your application.
We hope you've found this page useful. We're so passionate about these roles. It's vital to the brilliant care we provide for our patients across the city. By joining MFT, you'll be part of an outstanding team doing life-defining work. You'll receive a rewards package that's second to none and career opportunities every bit as impressive.
You'll have a stable job, a permanent contract, and an investment in first-class training.
If your skills and experience match these roles, we look forward to receiving your application.