MFT currently employs more than 45 PAs, based in AMU, AMRU, Cardiology, Cardiothoracic/Transplant, Elderly Care, Gastroenterology, General Surgery, Respiratory, Urology, Vascular Surgery, NICU, Geriatrics, Burns & Plastics, Breast, Endocrinology, ENT, T&O and GP Practices.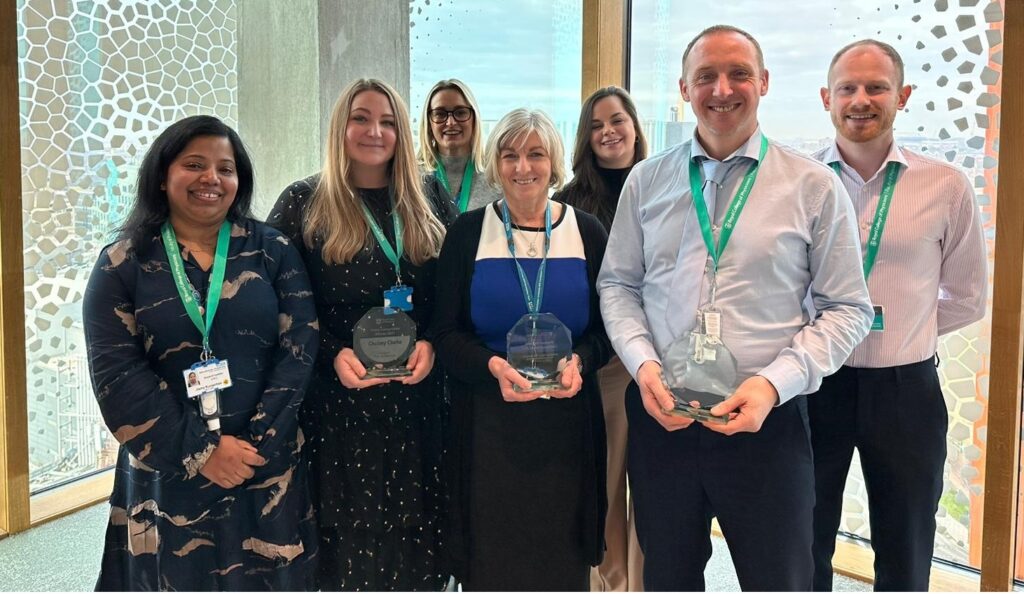 We were thrilled to win two of the three national awards on offer at the annual conference of the Faculty of Physician Associates held in December.
The MFT team scooped the Physician Associate of the Year 2022, awarded to Ben Minogue, PA in Burns and Plastics at Wythenshawe, and the PA Contribution Award 2022, which was presented to the PA Operations Team.
The ceremony took place on the 7th of February 2023 at the Royal College of Physicians, Liverpool. President of the FPA, Jamie Saunders, presented the PA Operations Team and Ben with their awards, alongside a belated presentation of the award for Best Poster at the 2021 FPA Conference, won by Chelsey Clarke, Lead PA and PA in Acute Medicine, Wythenshawe.
The PAs have a life science or allied health degree and have completed a Postgraduate Diploma in Physician Associate studies at university.  As qualified PAs, although not doctors, they will have been similarly trained to the medical model in order to carry out many of the day-to-day activities normally performed by medically trained staff, including the management of complex disease.
PAs are able to:
Take a patient's history
Perform examinations
Undertake a variety of procedures
Investigate, diagnose and treat many conditions
Work with patients, relatives and other healthcare professionals to optimise care
Facilitate a safe and e­fficient discharge from hospital
Becoming an employed PA
Physician Associates are qualified Medical Associated Professionals (MAPs) who have completed an MSc or PGDip in Physician Associate studies.  This is a two year intensive, full time medical education programme,  which is a condensed version of the MBChB undergraduate course and is available to graduates with previous health sciences degree.
In order to become an employed PA at MFT, as well as graduating you have to pass the national Physician Associate examinations, run by the Royal College of Physicians on behalf of the Faculty of Physician Associates (FPA).  You would then need to gain registration with the FPA prior to employment. You can apply for jobs whilst you await registration.
PA Students at MFT
At MFT we provide clinical placements for PA students studying at the University of Manchester (UoM). Click here for the course details/entry requirements.
You will also find a list of other course providers on the FPA website.
If you would like further information on the programme, please contact the below team through  PhysicianAssociates@mft.nhs.uk
Marylyn Dickinson, Associate Director of Medical Education & Non-Clinical Lead for PAs
Dr Cara Hendry, Cardiologist & Clinical Lead for PAs
Chelsey Clarke, MFT Lead PA
Rachelle Walker, Operations Manager for PAs
Jismy Vellakunathu Kunjachan, Senior Administrator for PAs
Useful Links:
The Faculty of Physician Associates at the Royal College of Physicians – https://www.fparcp.co.uk/