New mums can now give life twice in one day, thanks to the Anthony Nolan cord collection centre here at Saint Mary's.
By donating your umbilical cord after birth, which would normally just be discarded, you could provide someone with blood cancers the chance of a transplant.  Cord blood is rich in stem cells which could save someone's life.
The process is simple and straightforward and you most women say they didn't even know we were there.
For more information please click on the links below, or talk to our specialist Anthony Nolan midwives when you visit the hospital.  Don't worry if you don't sign up during your pregnancy, you can arrange to donate your umbilical cord right up to giving birth.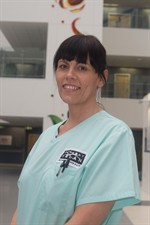 Diane Davies is the co-ordinating midwife at Saint Mary's for the Anthony Nolan cord blood programme.
You can contact her on (0161) 701 4983.