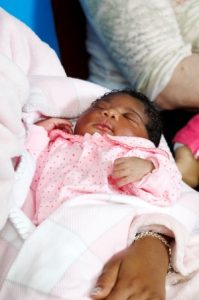 We care for women through all stages of pregnancy and birth, from your initial assessment in our Triage Department to the Induction of Labour Bay if your labour needs to be started, through to our consultant led labour ward. When you arrive the midwife will take you to your room. Please remember to bring your handheld maternity record with you.
We have 19 birthing rooms and 4 triage rooms. One of the delivery rooms has a birthing pool.
All staff on Ward 64 are committed to providing you with a high standard of quality care during your time with us. We aim to support you by ensuring your wishes are respected and that your birth experience is as positive and rewarding as it can be by adopting a holistic woman-centred approach.
Staffing on the unit
Due to the complex work undertaken on Delivery Unit every shift has two Senior Midwives present, who are supported by the remainder of the team. This includes: midwives, doctors, anaesthetists, maternity assistants, student midwives and domestic staff.
The majority of staff wear a uniform and these are:
Navy Blue, gold stripe – Head of Midwifery
Navy Blue, two red stripes – Lead Midwife
Navy Blue, one red stripe – Matrons
Navy Blue, pale blue stripe – Consultant Midwives and Specialist Midwives
Royal Blue – Band 5/6 Midwives
Medium Blue – High Dependency Nurses
Aqua – Clinical Support Workers
White – Student Midwives
Burgundy, cream stripe – Housekeepers
Pale Blue shirt/blouse – Ward Clerks
The medical and anaesthetic staff usually wear theatre blues when working on the Delivery Unit.  If you are unsure, all staff should have a Trust ID badge.  Please feel free to ask if you want to see it.
We also have porters, stores and pharmacy staff who come to Delivery Unit and these members of staff will also have a Trust ID badge.
Where are we?
Ward 64 is based on the second floor of Saint Mary's Hospital and you can contact us on the following numbers:
Triage – (0161) 276 6567 
Delivery Unit – (0161) 276 6556 
Please note: For confidentiality reasons we are unable to give any patient details to friends or relatives over the telephone.
Meals and Visiting
Breakfast, lunch and evening meals are available and you will be asked to complete a menu card.  In some circumstances you will not be offered food at regular meal times, the midwife will advise you at the time as appropriate.
Women in labour are allowed open visiting for their birth partners only.  This means a maximum of two visitors in total, and these individuals should ideally be decided on before your admission.
For women who have delivered their baby, including those requiring high dependency care, and women who are not in labour but are on the Delivery Unit, visiting is for partners only from 10.00 am to 10.00 pm. Other visitors may visit between 10.00 am – 8.00 pm, but numbers are restricted to two at the bedside at any one time.
Visiting on the Enhanced Recovery Bay is allowed for partners only between 10.00 am and 10.00 pm; Other visitors may visit between 3.00 pm – 6.00 pm, but numbers are restricted to two at the bedside at any one time.
If you are coming to the Triage Department, you will be allowed one person to stay with you whilst in the Department. Visitors are not allowed in Triage.
Siblings are allowed to visit (provided the woman is not in labour) but must be supervised at all times. Other children are not allowed on the Delivery Unit.
Please note that in line with the Trust's policy for infection control, flowers are not allowed.
Other Information
If you have any coughs, colds or sneezes and signs of illness such as vomiting please do not come to visit our unit, as we want to minimise the risk of spreading any illness to our mums and babies.
Your religious and spiritual needs are important to us, so please ask your midwife if you would like to access our chaplaincy/spiritual service.