The Adult Mortuary on the Oxford Road Campus is a purpose-built facility, located on the ground floor of the Clinical Sciences Building.
Address
Adult Mortuary Services
Ground Floor
Clinical Sciences Centre
Manchester Royal Infirmary
Oxford Road
Manchester
M13 9WL
Tel 0161 276 4476
Opening hours
The Adult Mortuary at ORC is staffed between the hours of 8:00am and 4:00pm, Monday to Friday. Outside of these hours, and over the weekend, there is an on-call technician available via Switchboard.
We are open to Funeral Directors during the following times:
Monday: 10:00 – 15:30
Tuesday: 9:00 – 15:30
Wednesday: 9:00 – 15:30
Thursday: 9:00 – 15:30
Friday: 9:00 – 15:30
We are closed in the afternoon on the first Wednesday of every month for staff training.
Due to current lockdown measures the adult mortuary unfortunately cannot facilitate any viewings of deceased patients until further notice. Please do not attend the mortuary viewing facility, for further information or enquires please contact the mortuary office on 0161 276 4476.
Adult Mortuary location
The Adult Mortuary is on the ground floor of the Clinical Sciences Centre. The entrance into the building is located on the boulevard next to Cobbett House entrance. Once through the entrance, the mortuary is signposted as "Mortuary Viewing Suite".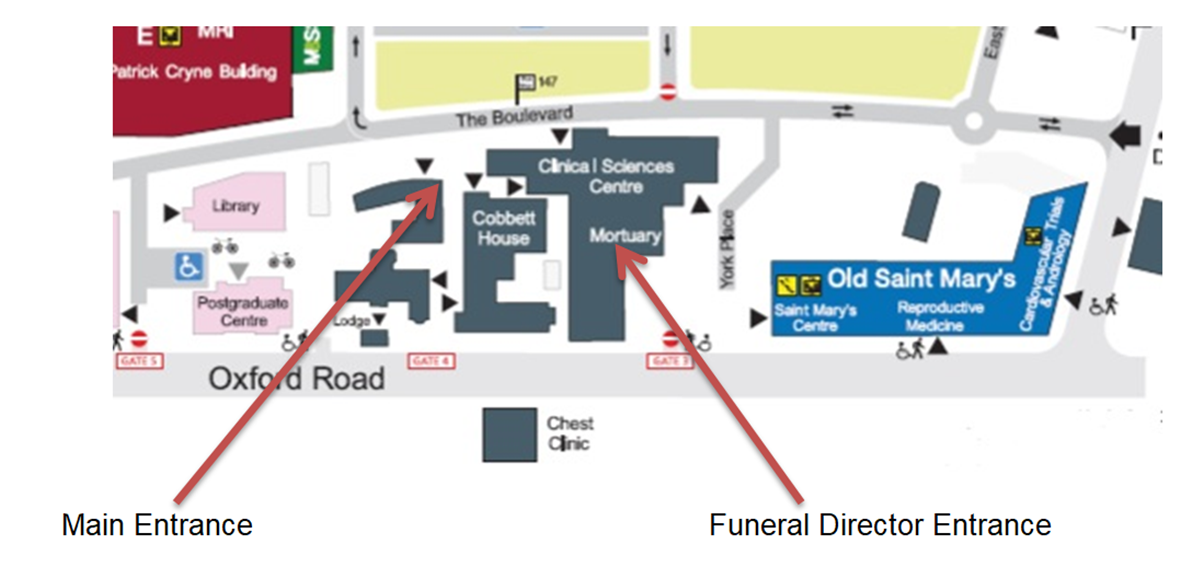 Download a printable version of our user guide
(Last reviewed October 2020)