The Division of Laboratory Medicine has laboratories at three sites: the Oxford Road Campus (ORC), Trafford General Hospital and Wythenshawe Hospital. Information on Laboratory Medicine at Wythenshawe is currently available in the handbook. This information is gradually being added to the ORC and Trafford information in each department's section.
The Division of Laboratory Medicine (DLM) at Manchester University NHS Foundation Trust (MFT) Wythenshawe Hospital provides diagnostic services to Wythenshawe and Withington Hospitals as well as General Practitioner surgeries in the South Manchester area and beyond.
There are four departments within the Division of Laboratory Medicine based at Wythenshawe Hospital:
Laboratory Medicine (except MRCM) is housed in the Clinical Sciences Building on the Wythenshawe Hospital site, shown in the bottom right corner of the map below. The Mycology Reference Centre is based in the Education and Research Centre; also shown below, in orange. The Mortuary is indicated by the number 9.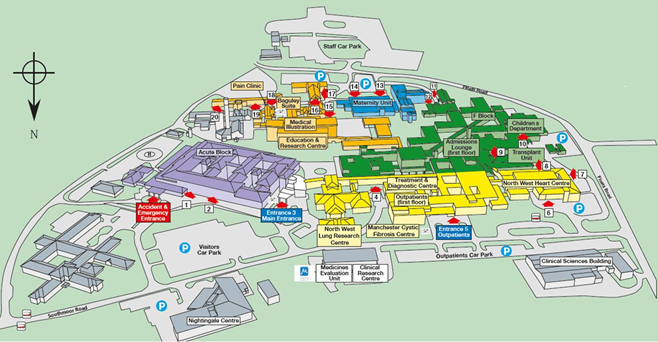 Quality
Each department within Laboratory Medicine has undergone external accreditation by the United Kingdom Accreditation Service, UKAS. Current accreditation status can be checked on the UKAS website, using the UKAS numbers in the table. The accreditation process requires annual inspection to ensure there is a system of quality management in place to give assurance that the results released and advice given by the laboratory are of a high standard.
| | |
| --- | --- |
| Laboratory | UKAS  Number |
| Biochemistry | 9063 |
| Haematology | 9072 |
| Histopathology | 9083 |
| Microbiology | 8393 |
| Mycology | 10196 |
Quality assurance
Test performed in the laboratories are enrolled either in a national/international External Quality Assurance (EQA) scheme or a similar local scheme where no national scheme is available.  This ensures that our tests are performing well.  We also use Internal Quality Assurance (IQA) and Internal Quality Control (IQC) to monitor the performance of our tests.
Our clinical and some scientific staff are also enrolled on proficiency testing EQA schemes, where they are tested on their interpretation of case studies involving pathology test results.  This ensures that the reports issued are correctly interpreted and the right advice is given.
Each laboratory is approved by the Institute of Biomedical Science for training of Biomedical Scientists, which has its own quality assurance programme.
As part of this training approval we have comprehensive training programmes for all grades of staff to ensure that they have all the required knowledge and skills to perform their duties to the highest level.  This includes the provision of expert clinical advice to our users and interpretive comments on reports.
We also have Quality Managers within the laboratories who are employed to oversee all aspects of quality and ensure that we meet the requirements of our accrediting and regulatory bodies.
Key performance indicators
We use Key Performance Indicators (KPIs) to monitor the quality of the service we provide.  There is a Laboratory Medicine dashboard that contains all of these KPIs, which is reviewed monthly to ensure we are performing to the required standard.
(Last reviewed June 2021)